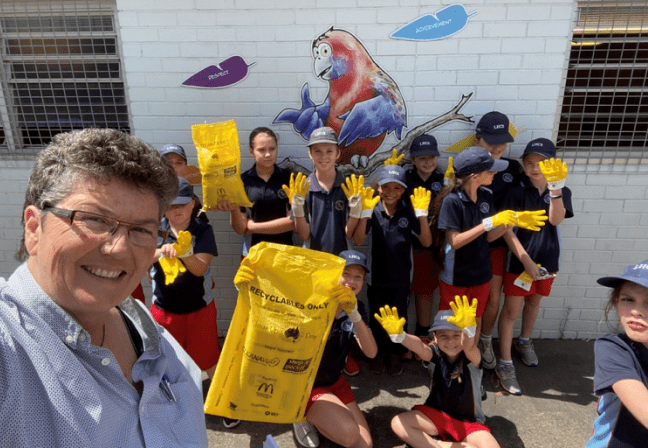 ---
Program Leader Award Winner: Julie Rogers, Lucas Heights Community School
In 2020, the inaugural Return and Earn Program Leader Award went to Julie Rogers, the Relieving Deputy Principal and Head Teacher for Science & Careers at Lucas Heights Community School. Julie's leadership and creative approach has seen the Return and Earn program become an incredibly successful student-led initiative at the school. With Julie's support and encouragement, students implement the program themselves, taking charge of everything including advertising, collection and sorting containers, and spending the funds earned.
The school has been participating in the program since July 2018 and in that time has raised $1,600 which has been used to buy decorations for year 6 and year 12 graduation ceremonies, equipment for the school's environment club, such as seedlings, wheelbarrows, and a water tank for the school garden, as well as funding professional development for teachers and sending students to attend various environmental conferences at no cost. Julie developed an assignment for her marine studies class where they devised an advertising campaign to convince their peers and the school community of the importance of recycling their plastic containers to avoid ocean pollution. The students presented their campaigns to a judging panel, with the winning campaign being presented at school assemblies and informing the school's actions for Plastic Free July. Through Julie's networks, the six students behind the winning campaign were invited to present to hundreds of people at the 2018 Youth Eco Summit (YES).
Concurrently, Julie acquired bright orange bags that became the Return and Earn collection points and commissioned a student to design and build a metal stand to hold the bags. Up until recently, Julie returned the collected containers in her spare time – demonstrating her commitment to the program's success. She has now established a relationship with St George recyclers to collect and return containers and deposit funds into the school's bank account each term.
Students have not only enthusiastically recycled their drink containers, students and parents regularly bring bags of containers from home. Julie's infectious enthusiasm has seen many K-6 student volunteers excited to collect and sort containers at term's end. They also calculate the amount the school expects to earn, learning valuable maths skills. The whole school community can see and appreciate the value of this program, and the work that Julie does in leading it so successfully.
---
Read more Return and Earn news