Get started
Four quick steps to begin fundraising.
1. Define
Determine exactly what your fundraising goals are.
2. Choose
Pick a method that works best for your group.
3. Inform
Tell your group about the fundraiser and explain how they can help.
4. Collect
Get everyone involved in the collection process.
Ways to fundraise
There are 3 great ways to fundraise. You can do one of these or a combination.
You could be featured as a donation partner, organise the collection and return yourself,
or you can get your whole group involved in the process.
1. Become a Donation Partner

Our donation partners are featured on a Reverse Vending Machine and can receive donation refunds from people returning containers in the community. If you're a school, sports club, charity or community group, you can apply.

Download and complete an application form.

State-Wide Donation Partner

Operates at state-wide, national or international level. (e.g. RSPCA, St Vincent De Paul)

Local Donation Partner

Operates predominately in a local area. (e.g. school, sports club or local charity)

2. Collect and return containers

Begin by setting up your Return and Earn collection point/s in an easy to access and secure area. Smaller groups could use recycling bins, but larger groups may need a caged trailer.

Next, start collecting eligible containers. If you have others involved in your fundraising effort, encourage them to join in.

Then, take your eligible collected items to a return point for a refund. For returns with over 500 containers, it's recommended that you take your items to an Automated Depot.

Partner with an Automated Depot

Some NSW Automated Depots will collect your containers directly from you. To find out if your nearest Automated Depot does this, simply use our return point search and give them a call.

3. Get refunds direct to your fundraising account

If you have lots of people involved in your fundraising effort, they can easily get involved. Encourage them to begin collecting eligible containers and then have their returns refunded directly to your fundraising account.

How to get direct refunds

Set up a Return and Earn account with PayPal.
Share your unique barcode with your community.
They scan your barcode at a Reverse Vending Machine and your account gets the refund.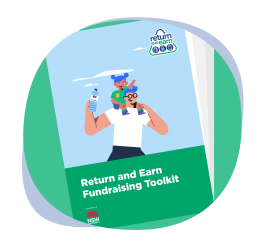 Our helpful toolkit
Get your group excited and informed about Return and Earn using our handy toolkit. It includes printable posters, stickers, newsletters and social media info.