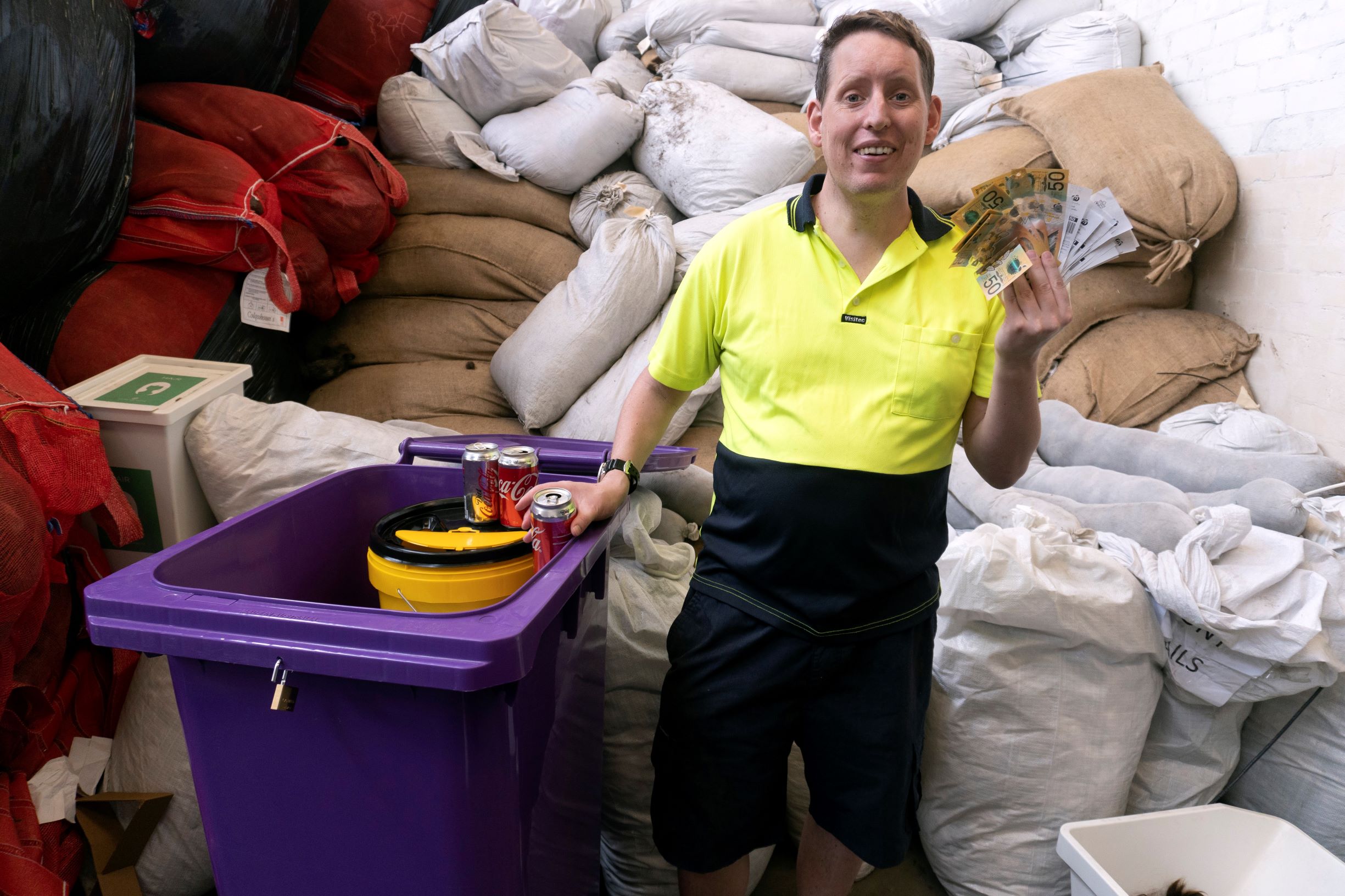 ---
Sustainable Salons employee embraces Return and Earn
Sustainable Salons might be best known for ensuring the trimmings from hairdressers and barber shops are recycled, but the social enterprise's multi-pronged endeavours recently came together in the form of supported employee Jeff Mathews collecting cans and bottles to fundraise for OzHarvest.
Sustainable Salons was formed to help hair salons become sustainable through resource recovery. As well as sending hair to be recycled as wigs and as booms used to mop up oil spills, the enterprise helps make sure all waste material – plastics, foil, dyes remnants, and more – from salons is recycled.
Paul Frasca, co-founder and Managing Director, says that the ethos of Sustainable Salons made using the Return and Earn container deposit scheme an obvious choice. "The day it started in NSW was the day Sustainable Salons jumped on board, and we intend to be part of [container deposit schemes] in every state and territory as they become available," says Paul.
All containers collected from NSW salons are sent to Return and Earn. Paul says it adds up to an average of 3,600 containers per month, and all proceeds are donated to OzHarvest – a charity that provides meals to vulnerable people in the community.
And that's where Jeff comes in. He began work with Sustainable Salons as part of the supported employment program – an initiative to provide purposeful work to people living with a disability.
Jeff was immediately enthusiastic about his job with the organisation, but when he saw how containers were being recycled to help provide food to people in need, he decided to do more to help.
"When I learned about how it worked here with Return and Earn, I thought why not do it myself and maybe I can give this place what I earn out of it because the money will go to make meals for the homeless," says Jeff. "I lost count after I reached 10,000 containers, which is $1,000 for OzHarvest. But Paul says it's more than $1,500 now. I get them from my own recycling and people around the neighbourhood – even all the retirees up in Diamond Beach where my mum and dad live help me collect them."
Jeff says he's proud of all the work he's been able to do with Sustainable Salons. "I've made booms to help with oil spills, done multiple warehouse tasks including the ponytails sorting and separating materials, and I've even travelled with one of the drivers," he says. "I love all the wonderful recycling that we're actually doing in this job. I love doing everything, it's all magic!"
Paul is thrilled with the success of the supported employees program. He says it was introduced to set "an example of how successful businesses can provide for all areas of the community" and that the employees quickly became "colourful, strong and valuable members of the Sustainable Salons community".
Meanwhile Jeff is keen to keep recycling as much as he can. "There's no planet B, so we have to save what we have left," he says, adding that he would encourage everyone to get involved with container recycling. "Do it! You'll be saving more than you know."
Return and Earn is a partnership between the NSW Government, scheme coordinator Exchange for Change and network operator TOMRA Cleanaway. Launched in December 2017 it has become the state's largest litter initiative.