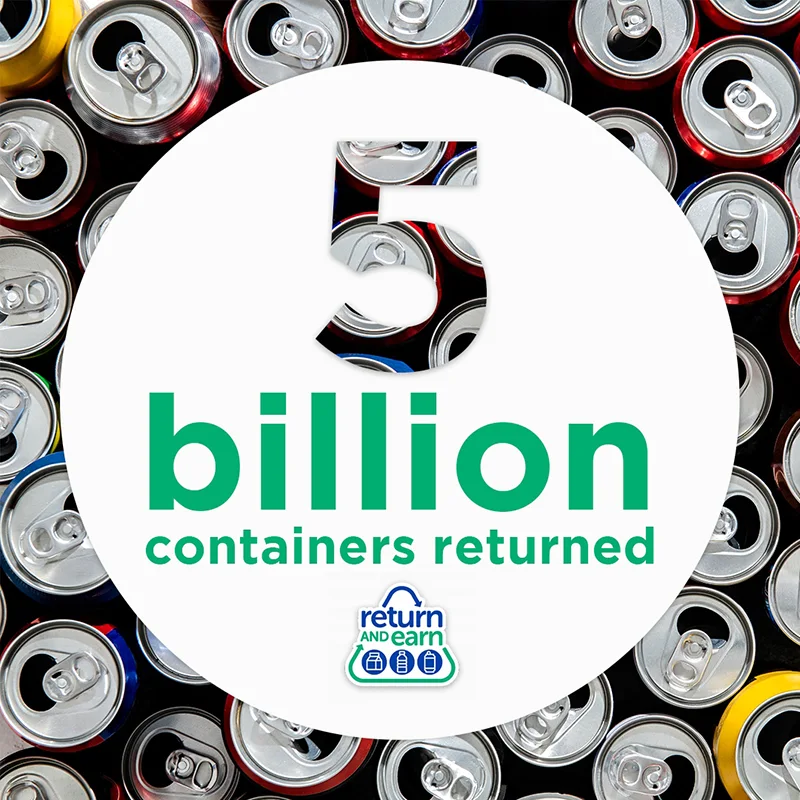 ---
Shifting attitudes to recycling sees 5 billion drink containers returned in NSW
Return and Earn is celebrating the 5 billionth container deposited through the scheme. With two out of three eligible containers now returned through the state's container deposit scheme, over 460,000 tonnes of material has being sent to recyclers to be turned into a clean, valuable commodity. $500m has been returned to the NSW community through the 10 cent deposit and over $18.2 million has been raised for community groups and charities via donations and fees from hosting return points.
This phenomenal performance is underpinned by the support and engagement of the NSW community, with three out of four NSW adults having used the scheme. People use the scheme because they believe in it – consumer research* shows that 77% of NSW adults trust Return and Earn is a long-term solution, 82% of people agree that it reduces the amount of litter in NSW and 83% say it benefits the environment.
"Recycling is vital to creating a sustainable future and supporting a circular economy," says Danielle Smalley, CEO of Exchange for Change, the scheme coordinator. "By delivering a reliable, transparent scheme, with a strong focus on customer service, we quickly earned the confidence and trust of NSW and this is translating into action as participation in the scheme continues to grow." says Ms Smalley.
Service delivery has clearly resonated with participants. 82 percent of people who use the scheme report they are satisfied with the experience.
James Dorney, CEO of the scheme's network operator TOMRA Cleanaway, says, "This outstanding milestone could not have been achieved without our valued return point partners. Across NSW there are over 620 locations at which our community can access their 10c refunds. Through our network we aim to make participation in Return and Earn as easy, accessible and rewarding as possible for all our customers."
The scheme has become especially important to many charities and community groups across NSW, for whom Return and Earn is a source of fundraising and revenue. Organisations like Vinnies are able to raise revenue by operating return points, while community groups and charities like Gerringong Lions Club have featured on Reverse Vending Machines, allowing users to donate their 10 cent refunds when they return their drink containers. The scheme offers a number of ways to raise funds, detailed here.
"By offering a strong financial motive to participate, we turn something that could have been litter into a resource. It encourages people and community groups to see the potential of the glass, plastic and aluminium or steel cans that they drink from," says Ms Smalley.  "This is all part of what helps change attitudes and drive action to increase recycling across NSW."
Join the millions who are returning and earning. You can find your closest return point here.
*Kantar Public, December 2020
Return and Earn is a partnership between the NSW Government, scheme coordinator Exchange for Change and network operator TOMRA Cleanaway. Launched in December 2017 it has become the state's largest litter initiative.