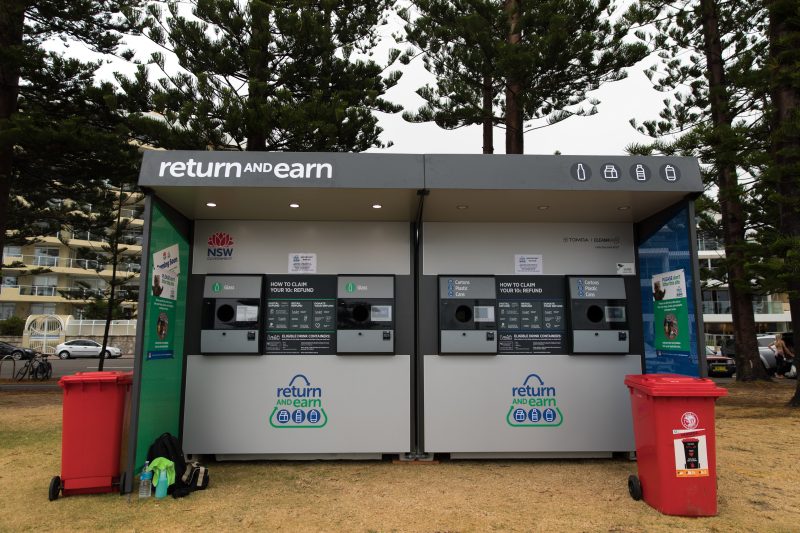 ---
Recycle responsibly through your local Reverse Vending Machine
NSW is celebrating National Recycling Week, and so is Return and Earn. You can easily participate in NSW container deposit scheme by visiting your local reverse vending machine (RVM) and returning your eligible bottles and cans.  
Launched by Planet Ark in 1996, National Recycling Week brings a national focus to the environmental benefits of recycling, with the intention to make recycling easier.  
Return and Earn enables you to recycle eligible containers – and receive 10c refund for each – through various return points. Reverse Vending Machines offer you refunds in the form of retail vouchers, electronic payment (via the Return and Earn app) or donation options to local charity groups listed as donation partners. 
Return and Earn in four easy steps
One: Collect
Start your collection by separating plastic bottles, aluminium cans, liquid paperboard cartons (such as poppers) and other eligible containers from your glass drinks containers beforehand. You can use colour coded flexi tubs to sort and transport your containers.  
In NSW, you can return most beverage containers between 150ML and 3L that are usually consumed outside the household – for example at a picnic or fundraising BBQ events. They need to be in good condition and have the label and barcode intact. Place all your other recyclables in your yellow bin. 
Two: Check 
Visit this website's Return Points page before you set off to check whether your local Reverse Vending Machine is closed or full to avoid disappointments and unnecessary trips. Use our search button to look for a return point near you, by typing in your suburb or postcode.  
Machines are emptied and cleaned daily by our Network Operator TOMRA Cleanaway and the status of each machine is updated live on this website as well as on the Return and Earn app.  
Tips:  
– Weekday mornings are generally the best times to visit. 

 

– Weekends can be busy days at the return points. Plan your weekends and be on the lookout for alternative return points locations.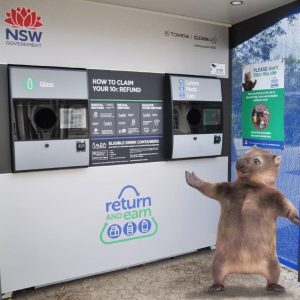 Three: Return
You've made it to the Reverse Vending Machine. As you wait in line and give your fellow citizens the time to return their containers, you'll be happy you separated your containers as the machine accepts them based on material type. Although Reverse Vending Machines can take up to 500 containers at a time, it is good to consider others who are also waiting in line.
On average, people in NSW bring 55 containers for returns to Reverse Vending Machines per trip.
Eligible containers with the barcode intact will readily be accepted by the Reverse Vending Machine, allowing you to get your refund.  
Download the Return and Earn app if you wish to have your refund paid through PayPal, or make a donation towards one of the local charities listed as donation partners on the machine. 
Four:
Remove
You have done so much for the environment by recycling your containers through Return and Earn: putting high quality recyclables with low levels of contamination improves the drink container recycling system.
Now you can take back with you your carrying bags, boxes or tubs and remove anything that is not accepted by the machine. 
Remember, all your other recyclables can be placed in your yellow bin. 
Now you can go full circle, and start collecting again. Happy recycling!
Return and Earn is a partnership between the NSW Government, scheme coordinator Exchange for Change and network operator TOMRA Cleanaway. Launched in December 2017 it has become the state's largest litter initiative.