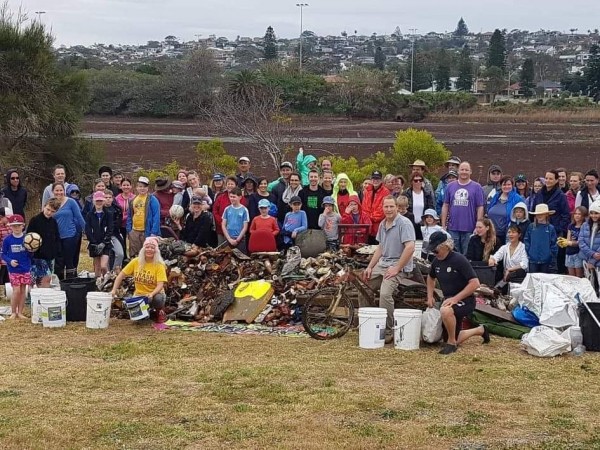 ---
Northern Beaches Clean Up Crew
Malin Frick founded the Northern Beaches Clean Up Crew (NBCUC) in 2015, organising monthly clean ups of beaches and waterways.
"We have volunteers of all ages – toddlers, elderly people with walking sticks, people from all cultural backgrounds and religions – but everyone comes together for a cause we all believe in. Everyone wants a clean environment," Malin says.
Since Return and Earn launched nearly three years ago, they have been returning any eligible cans, bottles and cartons collected during their clean up days for the 10c refund apiece. Malin estimates the volunteers have picked up thousands of containers through their clean ups.
In October last year, NBCUC registered for their own fundraising barcode through the scheme which they have shared with the community to encourage them to donate their refund to the group when returning their containers at their local reverse vending machine.
"We use the refunds to help the volunteers – we buy equipment such as gumboots for kids and rubbish pickers, which are especially useful for older people who can't reach down."
Malin points out that litter often accumulates, either as small plastics that can be hard to see on beaches, or in out of the way places.
"Even if a beach looks clean, often it's not – when you look you really see the small plastics, straws, and cigarette butts. We clean up lagoons as well, which includes rubbish that has been around for decades – we found a container of yoghurt that had expired in 1984," Malin says.
After every clean up, they count the pieces of litter. After one clean up last year at Curl Curl Lagoon, they counted 21,000 small and large pieces of rubbish – from straws to carpets – collected in a single day.
"Even picking up just a few pieces of plastic can save the lives of hundreds of animals on the other side of the world, as the plastic can break down, travel on ocean currents, and be ingested as micro plastics," she says. "Every action helps."
However, Malin also highlights that the clean ups are only one part of the solution – social change to reduce single use plastics is also vital.
"It's great that Return and Earn was introduced, as it helps encourage all Australians to develop recycling habits," she says.
---
Read more Return and Earn news