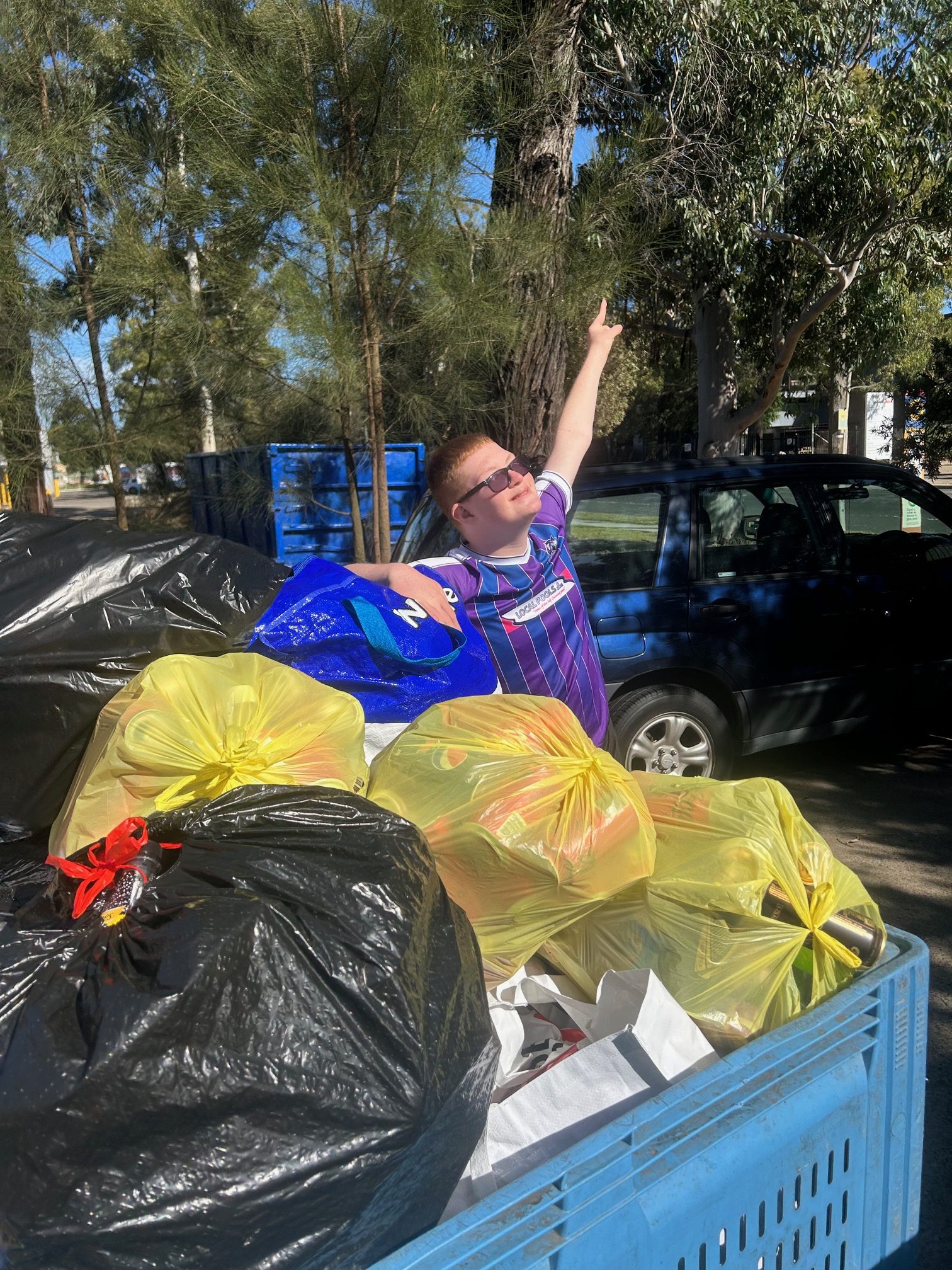 ---
East Hills teenager returning and earning to develop life skills
Fourteen-year-old Aidan Hanratty's favourite thing about recycling is playing with his neighbours' dogs when he drops by to collect their empty bottles and cans to recycle through Return and Earn.
Patting the dogs and chatting with people also gives Aidan, who has an intellectual disability, important social contact.
His carer Bronte Ballantine-Jones recognised that it might be difficult for Aidan to work a "typical" job and looked for ways he could develop different skills.
"We wanted to give him a chance to work on things like money management, social skills and just general independence.
"Return and Earn – or bottles and can collecting as Aidan calls it – seemed a viable option as I could be there as a support, but he could do all the heavy lifting and talk with the people who donate their containers," said Bronte.
Aidan's community in East Hills have rallied behind him and people have also reached out via social media to donate their bottles and cans.
"There are a few families from his church who donate regularly, and whenever someone in the church has a big event they always save their bottles for Aidan," said Bronte.
Most Saturdays, Aidan and Bronte head out together to pick up containers from donors in the East Hills, Panania, Picnic Point, and Padstow.
"Aidan loves the social aspect of Return and Earn. He would stay for hours playing with everyone's dogs if he could but work must go on!" Bronte said.
Collecting containers through Return and Earn has also helped Aidan develop his independence over the last couple of years.
"He now collects the bottles by himself and carries them to the car," she said.
In the two years since Aidan began collecting bottles and cans, he has earned around $1,000.
He currently makes up to $100 a month recycling with Return and Earn, with most of it going into savings. He also bought himself a new bike helmet, and each Saturday after swimming or soccer, he spends some of it on a treat.
"His favourite thing to buy is a strawberry milkshake and hot chips with tomato sauce," Bronte said.
Return and Earn is a partnership between the NSW Government, scheme coordinator Exchange for Change and network operator TOMRA Cleanaway.