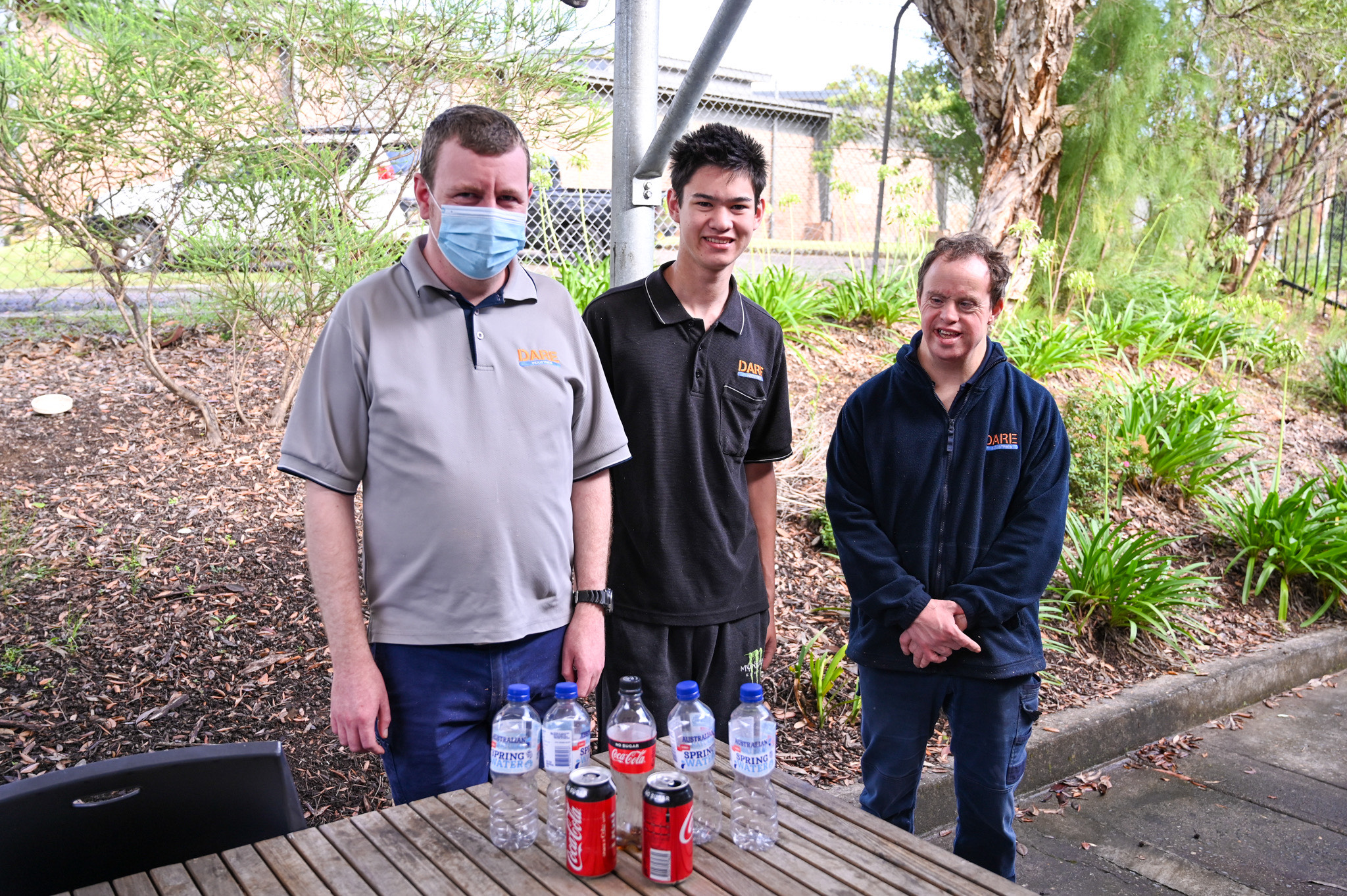 ---
Container refunds help disability service celebrate with clients
DARE Disability Support runs services for people living with disabilities, including day programs, supported living, and supported employment. Recently, they began fundraising with Return and Earn.
Marketing and Communications Coordinator of the Springwood-based organisation, Holly Gibbons, says they became involved with container recycling because they are always keen to participate in community activities. She added that being able to raise funds while contributing to an environmental cause was a double win.
The disability service reached out to Return and Earn network operator TOMRA Cleanaway last year and applied to feature on a Reverse Vending Machine. When consumers deposit containers at RVMs they can nominate their refunds to go directly to featured charities.
"We started off on the machine at Wentworth Falls Country Club," says Holly. "We've had 350 bottles donated already."
DARE is now also featured on three additional RVMs at Emu Plains, Lithgow and Winmalee. Holly points out that the new RVMs are closer to where many of the service's clients live than Wentworth Falls. She says that hopefully, even more people will donate their containers in areas where the locals know about the charity.
"A lot of the funds raised will go towards a celebration of DARE's 60-year anniversary, which is this year," says Holly. "We want to involve all our clients and the community, so, COVID depending, we hope to do cakes at each of the independent living houses, at day programs, and for the supported employees as well."
If they raise enough money, Holly says extra funds will go towards things such as materials for day programs, transport for clients to get to and from the activities, and the supported employees' program which provides jobs to more than 50 people. "This program includes jobs like gardening and lawn maintenance, making wooden pegs and stakes for councils and private companies and covering books with contact for the Hawkesbury and Nepean libraries," says Holly.
"Our main mission is to show employees how much they are contributing to society – they are really proud of the work they do. Many work full time and say it's their favourite part of the week," she says. "We have a lot of different jobs and try to make sure everyone is happy and gets to do what they like best."
As well as enjoying community support for the fundraising, Holly says that a couple of their program participants have also started collecting bottles and cans to fundraise for the service.
Since Return and Earn launched in December 2017, the scheme has helped raise millions of dollars for charities, schools and community groups in NSW. An online toolkit on for fundraising with the scheme can be found here.
---
Read more Return and Earn news