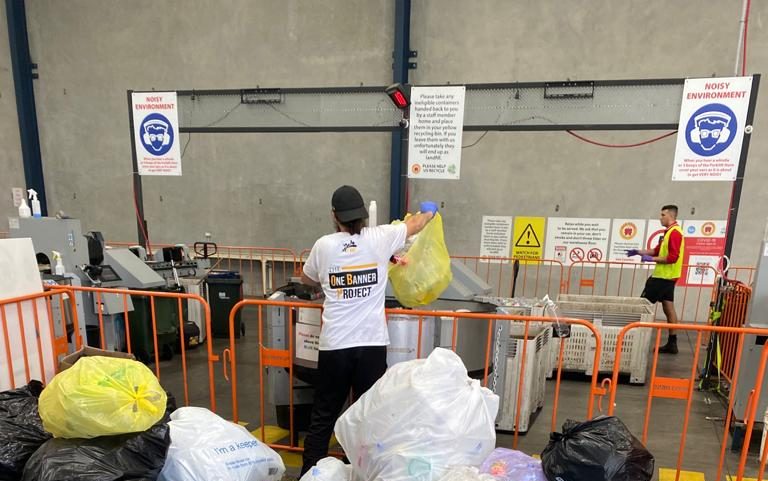 ---
Changing lives one bottle at a time with The One Banner Project
The One Banner Project has been able to reach more vulnerable people with vital assistance, thanks to funds raised through Return and Earn.
Co-founder and Vice President, Houda Zreika, says the Western Sydney based charity is "dedicated and determined to provide relief and assistance to individuals and families living in poverty, financial stress, or those facing a crisis, by providing emergency relief".
The One Banner Project assists people in Australia and overseas. In Australia, support provided by includes food packages, accommodation for women fleeing domestic violence, financial support, hygiene packs, a back to school program, general household items, and more. Overseas programs focus on funding emergency relief efforts.
Through Return and Earn, the charity raises around $600 each month. "Every bottle returned and earned by The One Banner Project has either saved someone's life or has made a huge impact for the better," says Houda.
The charity offers options for supporters to drop off containers at set collection points, to deposit their containers with Return and Earn themselves and direct the refunds to The One Banner Project, or, alternatively, The One Banner Project can organise to pick up containers from donors.
"The funds have gone towards many of our amazing initiatives, such as our fortnight food run where we help many struggling families and individuals with everyday food essentials" says Houda.
Houda herself was raised by a single mother, and the challenges her mother faced made Houda determined to help others. "She struggled to put food on the table everyday, and that has made me very passionate about my work in the charity industry," says Houda.
Since Return and Earn launched in December 2017, the scheme has helped raise $15.5 million for charities, schools and community groups in NSW. An online toolkit containing digital assets and guidance on container returns and fundraising can be found on this page: https://returnandearn.org.au/fundraising/
---
Read more Return and Earn news