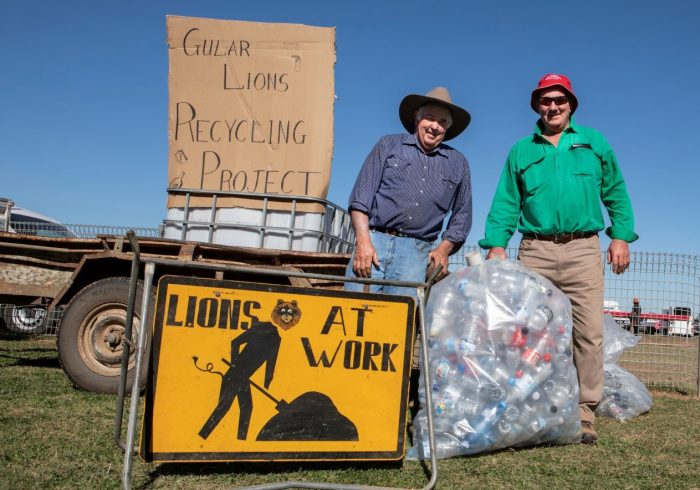 ---
Champion Lions win Environmental Citizen award
Gulargambone Lions Club has been announced as the winner of the first-ever 2019 NSW Environmental Citizen of the Year Award for their outstanding work in helping the environment and their community.
The Lions Club, from the NSW central west town of Gulargambone, has returned thousands of containers through the Return and Earn scheme and gathered tonnes of old vehicle batteries to send to scrap metal recyclers, raising vital funds.
Gulargambone Lions member Col Ryan said the funds raised through the club's work have helped people in need and delivered major benefits for the community.
"We are so proud of this award. We realised that by collecting recyclable material we could benefit our community by raising money for local projects, while making our community a much tidier place," Mr Ryan said.
(SCROLL DOWN TO SEE THE VIDEO)
The Environmental Award, sponsored by Return and Earn, was introduced this year as a new category of the Australia Day Council of NSW Citizen of the Year Awards, recognising outstanding efforts by individuals or organisations to preserve the environment, reduce litter and improve recycling, or use the Return and Earn scheme in an innovative way to fundraise for a meaningful cause.
Return and Earn – the largest litter reduction program ever undertaken in NSW – sponsors the award because the candidates share Return and Earn's ultimate goal of improving the environment across NSW.
Return and Earn, which has so far resulted in almost two billion containers being returned for recycling, has provided $5000 to support the winner's initiative and to help them achieve their environmental goals.
The winner was announced on World Environment Day and you can see more about the great environmental work of all the finalists here.