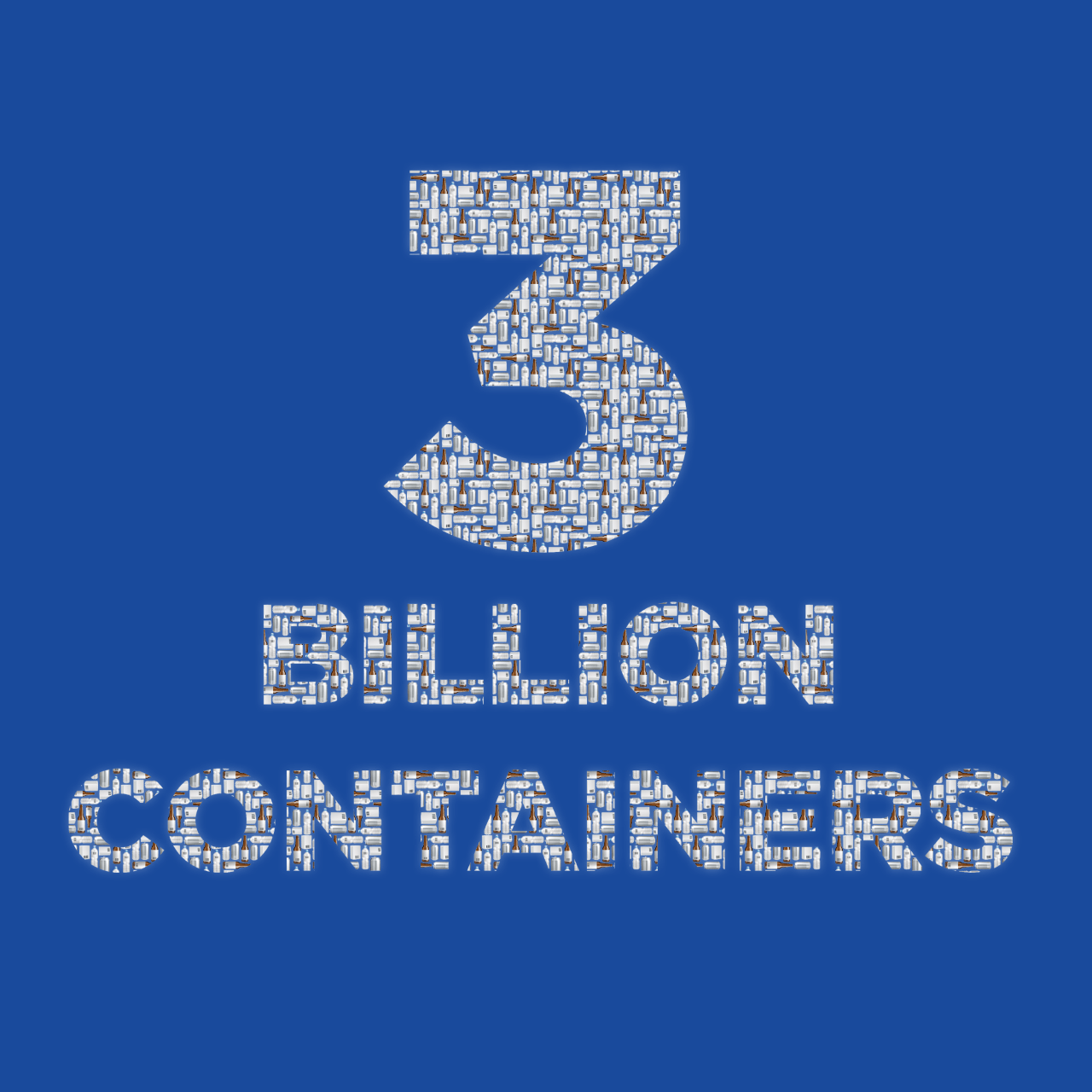 ---
3 billion reasons to celebrate
Congratulations NSW! Together you have now returned more than 3 billion bottles and cans for recycling through the Return and Earn network – and that's in just over two years.
It's nearly impossible to picture a volume of this magnitude – in fact, stacked end to end these drink containers would stretch just beyond the distance from earth to the moon*. But importantly, three billion containers represents tens of thousands of tonnes of plastic, glass and aluminium that has been diverted from litter and landfill to be recycled into new products.
There's no doubt that Return and Earn is having a positive impact on the environment and on people's behaviour. We're currently averaging over 7 million drink containers a day being returned across the state and one in two NSW residents (aged over 18) have participated in the scheme.
'Returning and earning' has become part of people's everyday lives with children using the scheme to earn pocket money, student groups collecting bottles and cans to fund school activities, and families who simply make returning containers part of their weekly routine as a way to teach their children about recycling while earning a few extra dollars.
The youngest ever winner of a Keep Australia Beautiful – Litter Reduction Award, was three-year-old Jonathan English, who received the award late last year for his efforts using Return and Earn. The tiny champion insists on picking up littered drink containers every time he goes to the beach with his mum and then returning them at his local return point, which has created a habit for him and his family that is now routine.
There are currently 640 return points across the state, including reverse vending machines, automated depots and over-the-counter returns points. Every day we're seeing many individuals, families and groups just like Jonathan, helping the environment while being rewarded for their efforts with a 10c refund per container returned.
Return and Earn is a leading example of how government, industry and the community can work together to turn waste into a resource with 100% of drink containers returned through the scheme being recycled.
The 3 billion bottles and cans returned so far have become an in-demand high-quality stream of recyclable glass, plastic and aluminium which is then used primarily to create new containers. By providing this growing stream of recyclable material, and reducing the reliance of industry on virgin materials, Return and Earn has become a key contributor to the emerging circular economy in NSW.
While the environmental benefits are clear, the scheme has also returned big wins for the community. More than $900,000 has been raised for donation partners since the scheme began in December 2017 with many community groups and schools across the state having also implemented Return and Earn programs to fundraise for new equipment, resources and projects.
And this summer, people can Return and Earn to help support bushfire and drought-affected communities. Simply donate the 10c refund for some or all of your empty bottles, cans and cartons at any Return and Earn reverse vending machine to TOMRA's Bottles for the Bush appeal. Over $350,000 has been raised so far nationwide, with all funds going directly to Rural Aid.
As scheme coordinator for Return and Earn, the team at Exchange for Change is proud to work alongside the NSW Government, network operator TOMRA Cleanaway, the beverage industry and the community to help make NSW cleaner and greener.
With 3 billion bottles and cans deposited for recycling, we can all celebrate having made a real and growing contribution to reducing waste and building a sustainable future in NSW.
* Based on average container size being 146mm, and distance between earth and the moon being 384,400 km.