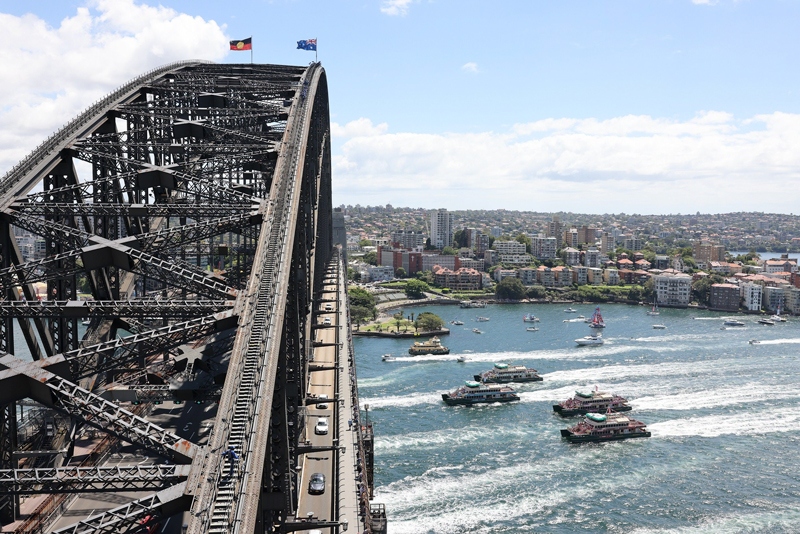 This summer, there's no better place to be than enjoying our fabulous waterways in NSW. We have two family passes to giveaway that will place you right on top of our most famous body of water in the Ferrython race on Sydney Harbour on Thursday 26 January. Two lucky winners will receive 4 tickets each to hop aboard one of the ferries taking part in the race, which will take you around Shark Island and back under the Sydney Harbour Bridge.
To go into the draw, simply upload and share a photo or video of you and your family (or your mates) recycling drink containers at a return point to either Facebook, Instagram or Twitter. Make sure you tag us so we get a notification:
Facebook: @returnandearn
Instagram: @returnandearnnsw
Twitter: @return_and_earn
Winners will be drawn at random.
The giveaway closes at 12PM on Friday 20 January and the winners will be announced by 5PM.
---
Terms and conditions
To be eligible to enter this giveaway ("Competition") and to win the prizes, entrants must:
Like the Return and Earn Facebook, Instagram and/or pages.

Upload and share a video or photo of you and your family or mates recycling at any return point. You can upload to Facebook, Instagram, or Twitter.

Before publishing the photo or video, tag Return and Earn on the platform (either Facebook, Instagram, or Twitter).
The competition runs from 13 January 2023 until 20 January 2023 12.00PM AEST ("Competition Period").
Prizes: 2 x bundle of 4 individual tickets to ride on one of Sydney's Emerald Class ferries as they race around Sydney Harbour in the annual Ferrython event on Thursday 26 January.
Terms & Conditions
Instructions on How to Enter form part of these Terms and Conditions. Participation in this competition is deemed acceptance of these Terms and Conditions.

The Competition hosted by Exchange for Change 'The Promoter' on behalf of Return and Earn is in no way sponsored, endorsed, administered by, or associated with Facebook and Instagram. By entering and participating, entrant agrees to hold harmless, defend and indemnify Facebook and Instagram from and against any and all claims, demands, liability, damages or causes of action (however named or described), losses, costs or expenses, with respect to or arising out of or related to (i) entrant's participation in the Competition, or (ii) entrant's participation in any Prize related activities, acceptance of a Prize and/or use or misuse of a Prize (including, without limitation, any property loss, damage, personal injury or death caused to any person(s).

Competition is open to all NSW residents under the age of 18 as of the date of entry and is void where prohibited. Participants under the age of 18 can enter with consent from a parent or legal guardian.

No purchase is necessary to enter or win.

Entries and applications via agents/third parties are not permitted.

Multiple entries will not be accepted (including single entries across two or more different social media platforms). If the Entrant has made multiple entries, the Promoter holds the right to select any single entry. The Promoter has the right to decline entries if the company believes it is one person entering multiple times with the same item.

It is a condition of accepting the Prize that the entrant must comply with all the terms and conditions and agree to accept the decisions of the Promoter as final and binding as it relates to the content of this Campaign.

The Promoter on behalf of Return and Earn accepts no responsibility for any late, lost or misdirected entries not received by the Promoter or delays due to technical disruptions, network congestion or for any other reason.

Employees of the Promoter (and their immediate families) and agencies associated with this Competition are ineligible to enter. Immediate family means any of the following: spouse, de-facto spouse, child or step-child (whether natural or by adoption), parent, step-parent, grandparent, step-grandparent, uncle, aunt, niece, nephew, brother, sister, step-brother, step-sister or first cousin.

The Promoter reserves the right, at any time, to verify the validity of any entry and of entrant (including proof of an entrant's identity, age and place of residence) and to disqualify any entrant who submits an entry that is not in accordance with these Terms and Conditions or who tampers with the entry process. Failure by the Promoter to enforce any of its rights at any stage does not constitute a waiver of those rights.

If there is a dispute as to the identity of an entrant, the entrant will be deemed to be the person who has submitted the entry provided that the person is NSW resident under the age of 18 and hold permission from a parent or legal guardian to participate in the Competition.

Incomplete, indecipherable or illegible entries will be deemed invalid.

The Promoter's decision is final and no correspondence will be entered into.

The Promoter reserves the right in its sole discretion to disqualify any entrant who the Promoter has reason to believe has breached any of these conditions or engaged in any unlawful or other improper misconduct calculated to jeopardise the fair and proper conduct of the Promotion. The Promoter's legal rights to recover damages or other compensation from such an offender are reserved.

By submitting this content (e.g., photo, video, text, etc.), the entrant retains the rights to their work while granting the Promoter, anyone acting on behalf of the Promoter, and the Promoter's licensees, and  successors an unrestricted, royalty free, perpetual right, where permitted by law, to print, publish, broadcast, distribute, and use in any media now known or hereafter developed, in perpetuity and throughout the world, without limitation, your entry, name, picture, image, statements about the Campaign, and biographical information for news, publicity, information, trade, advertising, public relations, and promotional purposes without any further compensation, notice, review, or consent.

By entering this content, the entrant represents and warrants that their entry is an original work of authorship and does not violate any third party's proprietary or intellectual property rights. If an entry infringes upon the intellectual property right of another, the entrant will be disqualified at the sole discretion of the Promoter. If the content of an entry is claimed to constitute infringement of any proprietary or intellectual proprietary rights of any third party, the entrant, at their sole expense, will defend or settle against such claims. The entrant shall indemnify, defend, and hold harmless the Promoter from and against any suit, proceeding, claims, liability, loss, damage, costs or expense, which the Promoter may incur, suffer, or be required to pay arising out of such infringement or suspected infringement of any third party's right.

If this Competition is interfered with in any way or is not capable of being conducted as reasonably anticipated due to any reason including due to infection by computer virus, bugs, tampering, unauthorised intervention, fraud, technical failures, website maintenance or any causes beyond the reasonable control of the Promoter, the Promoter reserves the right, in its sole discretion, to the fullest extent permitted by law (a) to disqualify any entrant; or (b) subject to any written directions from a regulatory authority, to modify, suspend, terminate or cancel the Competition, as appropriate.

Any cost associated with accessing and entering the Competition online is the entrant's responsibility and is dependent on the Internet service provider used. The use of any automated software or any other mechanical or electronic means that allows an entrant to automatically claim repeatedly is prohibited and will render all Entries submitted by that Entrant invalid.

This is a game of chance, with the Prize Winners drawn at random.

Prize Winners will be drawn using a random number generator. The Promoter will announce the winner on 20 January 2023 via the Return and Earn Facebook, Instagram and Twitter accounts.

The winners will be contacted via Facebook and Instagram or email within one (1) business day from the Judging taking place. In the event that any Prize winner does not contact the Promoter within one (1) business day from the date of the notification from the Promoter with the requested information, the Judges will select a new prize winner and contact the winner.

If any Prize (or part of any Prize) is unavailable, the Promoter, in its discretion, reserves the right to substitute the Prize (or that part of the Prize) with a Prize to the equal value and/or specification, subject to any necessary or applicable written directions from a regulatory authority.

Prizes, or any unused portion of a Prize, are not transferable. Acceptance of prize constitutes permission for Promoter to use Winner's name, likeness, and entry for purposes of advertising and trade without further compensation, unless prohibited by law.

Except for any liability that cannot be excluded by law, the Promoter (including its officers, employees and agents) shall incur no liability (including due to negligence), for any personal injury; or any loss or damage (including loss of opportunity); whether direct, indirect, special or consequential to any person or property, arising in any way out of the Competition.

The Promoter collects personal information in order to conduct the Competition and may, for this purpose, disclose such information to third parties, including, but not limited to, offer suppliers and as required, to Australian regulatory authorities; entry is conditional on providing this information. The Promoter may, for an indefinite period unless otherwise advised, use the information for Competition, marketing and publicity purposes including sending electronic messages or telephoning the entrant. The use and disclosure of this information is subject to the restrictions imposed on the Promoter by the Privacy Act 1988. Subject to the provisions of the Privacy Act 1988, entrants should direct any request to access, update or correct information to the Promoter by contacting contactus@returnandearn.org.au

In order to improve our services and provide better content The Promoter may keep track of patterns of use in the e-mails and e-mail newsletters sent. Please review our Privacy Policy for additional information. By supplying the Promoter your information, you have given us permission to communicate to you via mail, e-mail, Facebook, and telephone to inform you about products and services we deliver relevant to our industry. If you wish to obtain a copy of our Privacy Policy, access the personal information we hold about you or if your personal information is inaccurate, incomplete outdated or to unsubscribe, please contact us at contactus@returnandearn.org.au

The Promoter and their stakeholders assume no responsibility for any error, omission, interruption, deletion, defect, delay in operation or transmission; communications; line failure; theft or destruction or unauthorised access to, or alteration of entries, and reserve the right to take any action that may be available.

The Promoter of the Competition is Exchange for Change (ACN 625 238 799) PO Box 3414, Rhodes, NSW 2138 Australia.