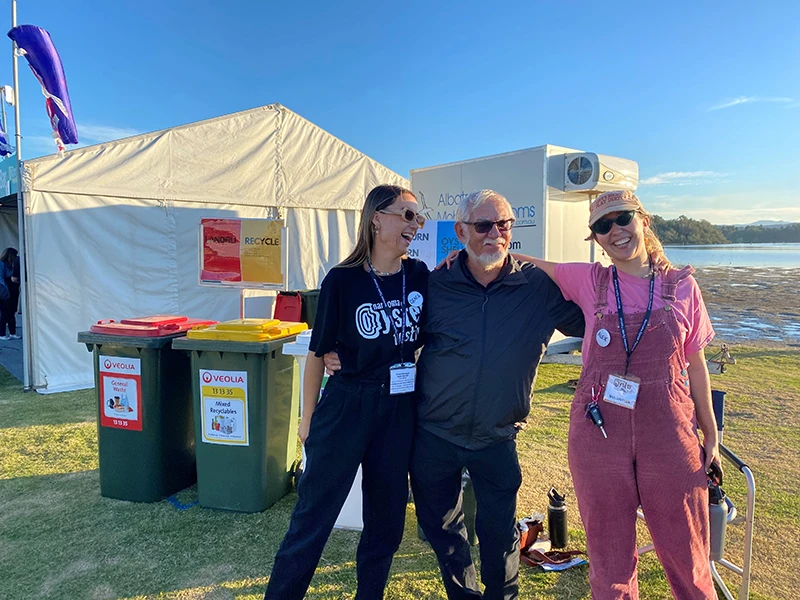 ---
Zero Heroes recycle and reduce litter in Eurobodalla
Towns on the NSW south coast are becoming more sustainable thanks to the Eurobodalla Shire Council and Return and Earn.
Melinda Norman, a Waste Minimisation Officer at the council, said it began with supporting events and organisations to implement better waste diversion by providing dedicated Return and Earn 240 litre recycling bins. The bins are used at sporting events and the annual Narooma Oyster Festival.
Council's efforts really took off with the introduction of Zero Heroes, a team of volunteers who sort waste and talk to people at events to educate them on what goes in each bin.
"We've had wonderful volunteers jump onboard with the Zero Heroes to assist with waste diversion and education. There was hardly any clean-up needed after the Oyster Festival in May due to successful waste diversion. There was no wind-blown litter like there had been in the past. We had a clean waste stream, and the refunds from 1,500 containers collected went to Yumaro—a local disability services and support organisation.
"People have really jumped on board and made an effort to understand how to divert waste properly. It's been extremely beneficial to the community," Melinda said.
Since the success of the Oyster Festival earlier this year, the council has purchased additional Return and Earn recycling bins for sporting clubs, community groups, and schools to help them recycle and fundraise through the scheme.
"We are always searching for the next group or event to donate some bins to, so more of the eligible containers are getting diverted. We've only had positive feedback," said Melinda.
Return and Earn is a partnership between the NSW Government, scheme coordinator Exchange for Change and network operator TOMRA Cleanaway.