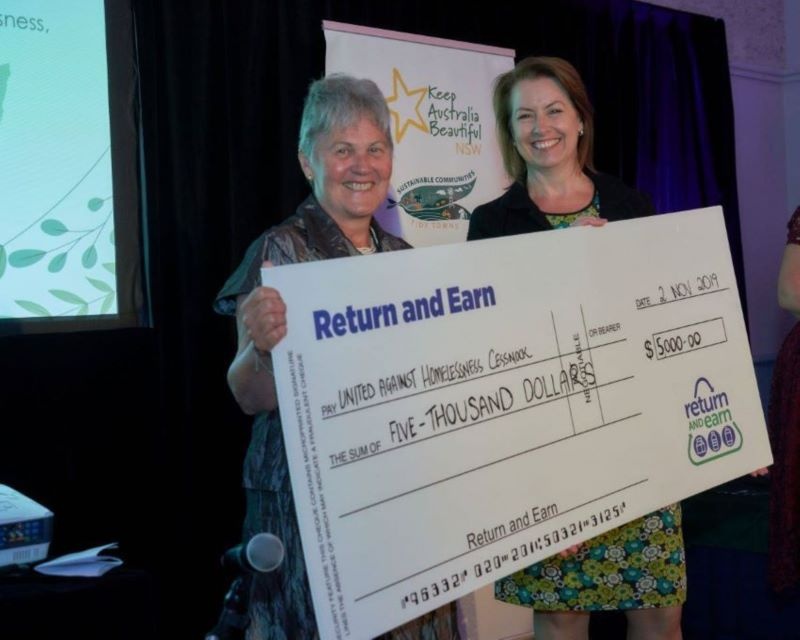 ---
A recycling three-year old and women's shelter recognised in NSW Tidy Towns Awards
Community groups and individuals working to keep their towns tidy and litter free through innovative use of the Return & Earn NSW container deposit scheme have been celebrated at a gala awards ceremony in Cessnock on Saturday 2 November.
Held at Pokolbin Hall in Cessnock, the Keep Australia Beautiful NSW 2019 Tidy Towns Awards recognised nine community groups and individuals from across NSW in the Return and Earn Litter Prevention Award Category.
The Overall Return and Earn Litter Prevention Award Category Winner was United Against Homelessness Cessnock, who won for its use of the Return and Earn container deposit scheme to fundraise for disadvantaged people in the community.
During the six-week period of Lent, United Against Homelessness collected eligible drink containers from individuals, community and sporting events, and from picking up litter around the town. The containers were returned for a 10c refund apiece through Return and Earn, with the proceeds going to local charities Soupz On and Hunter Hands of Hope. Although the initial recycling and fundraising push was during Lent, the activities are continuing. The group also used the initiative to promote recycling within the community by demonstrating how easy and accessible it is.
Also recognised for their efforts in keeping their local environment tidy were three-year-old recycling dynamo Jonathan English of Fernhill in Wollongong who collects litter from his local beach; sustainability-minded schools in Drake, Burradoo, Scone and Tweed Heads; and community groups using the scheme to fundraise for their community.
"Congratulations to all the winners for your incredible work to reduce litter and landfill in your local community," Janelle Neath, Acting CEO of Exchange for Change, the scheme coordinator for Return and Earn, said today.
"It's really wonderful to see the innovative ways people are using Return and Earn to not only keep their town tidy, but also to reach out and help people in need," she added.
The full list of Keep Australia Beautiful NSW 2019 Tidy Towns Awards Return and Earn Litter Prevention Category winners and runners-up is:
Category A – population up to 2,000
Winner – Individual – Jonathon English, Fernhill (Wollongong)
Winner – School – Chevalier College, Burradoo
Highly Commended – School – Drake Public School, Drake
Category B – population 2,001-6,000
Winner – School – Scone Public School, Scone
Winner – Not-for-profit – Wildlife Rescue Inc, Woolgoolga
Category C – population 6,001-12,000
Winner – Not-for-profit – Cowra Rotary Club, Cowra
Category D – population 12,001-20,000
Winner – School – Centaur Public School, Banora Point
Category E – population above 20,000
Highly Commended – Not-for-profit – Great Lakes Women's Shelter Inc, Forster/Tuncurry
Highly Commended – Community Group – Rotary Clubs of Port Macquarie Sunrise and West, Port Macquarie
The Keep Australia Beautiful NSW 2019 Tidy Towns Awards recognise, celebrate and reward the sustainability achievements of rural and regional communities across NSW, and are organised by Keep Australia Beautiful NSW (KAB NSW).
The Litter Prevention Award Category is supported by the Return and Earn NSW container deposit scheme.
Return and Earn gives consumers a 10c refund for each eligible drink container returned at any of the 640 return points across NSW. Since launching in December 2017, more than 2.4 billion drink containers have been returned for recycling via Return and Earn, resulting in a significant reduction in the volume of eligible littered drink containers in NSW.
Summer is peak season for 'return and earners'. All users of the scheme are reminded to recycle responsibly and take any rubbish with you, so that together we can keep all NSW towns tidy.