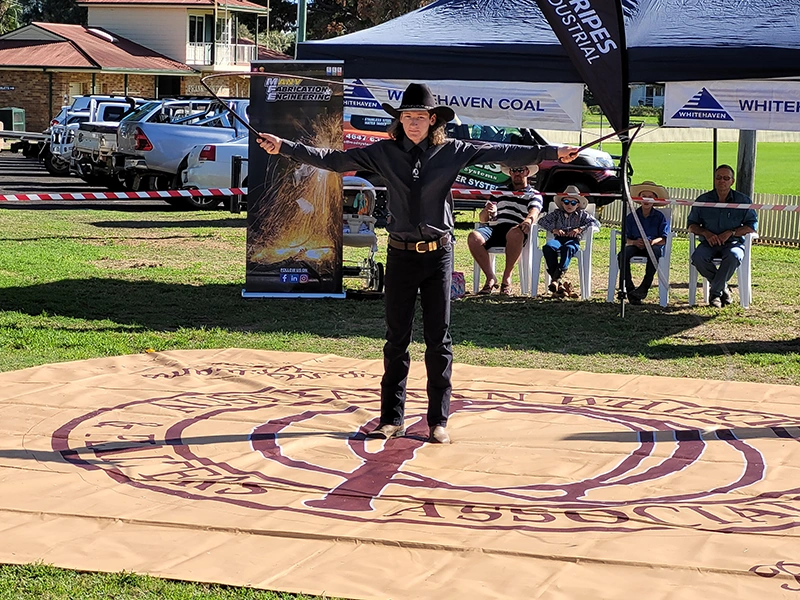 ---
Whip-smart siblings embrace recycling
Christie Jervis from Conargo is the proud mother of three champion whip crackers – Brooke, 17, Jesse, 15 and Beau, 9 – who all compete at a state level.
Buying equipment and travelling to competitions isn't cheap, so the family started fundraising with Return and Earn to keep it all cracking along.
The family attend community events held at the Conargo Hall, where the children would practice in front of an audience. The hall committee agreed to donate containers collected at the hall, and community members started saving their containers for the kids too.
As well as practising their own technique at the hall, Brooke, Jesse and Beau also share their skills and equipment to help other interested youngsters learn the art.
"It was a family friend who showed them how to crack a whip initially. It's definitely an art form, once you relax and understand the whip, the crack becomes much easier," said Christie.
As their skills have developed, they have looked to upgrade equipment.
"They began with a pair of cowhide whips and competed with them, and it's grown from there. Now they have kangaroo whips, which are more expensive," explained Christie.
Since discovering Return and Earn last year, they have raised $900. This includes refunds from the bottles and cans from the community hall as well as what they collect themselves.
Every week or so, they make the trip to their nearest return point in Deniliquin.
"It's a 20-minute trip each way, so we have an old 1,000 litre tank we fill with containers and a couple of wheelie bins to take it all in one hit," she said.
The siblings hope to soon buy a new pair of whips that will cost around $1,000.
"When they compete, they need different whips for different tricks. At state competitions, they perform five different routines and are scored for complexity. There is also an accuracy component and a freestyle component," Christie said.
Collecting containers has also given the kids a different perspective on rubbish. "We see litter when we drive into town and think. 'there's a dollar on the ground!'
"We live on a hobby farm right on the creek, and we often pick up rubbish from the creek or the side of the road. When you make a little money on the morning walk, you feel like you've achieved something.
"We want to recycle as much as we can. It can often feel like we live in a throwaway society, and Return and Earn lets us do our bit," Christie said.
Return and Earn is a partnership between the NSW Government, scheme coordinator Exchange for Change and network operator TOMRA Cleanaway.