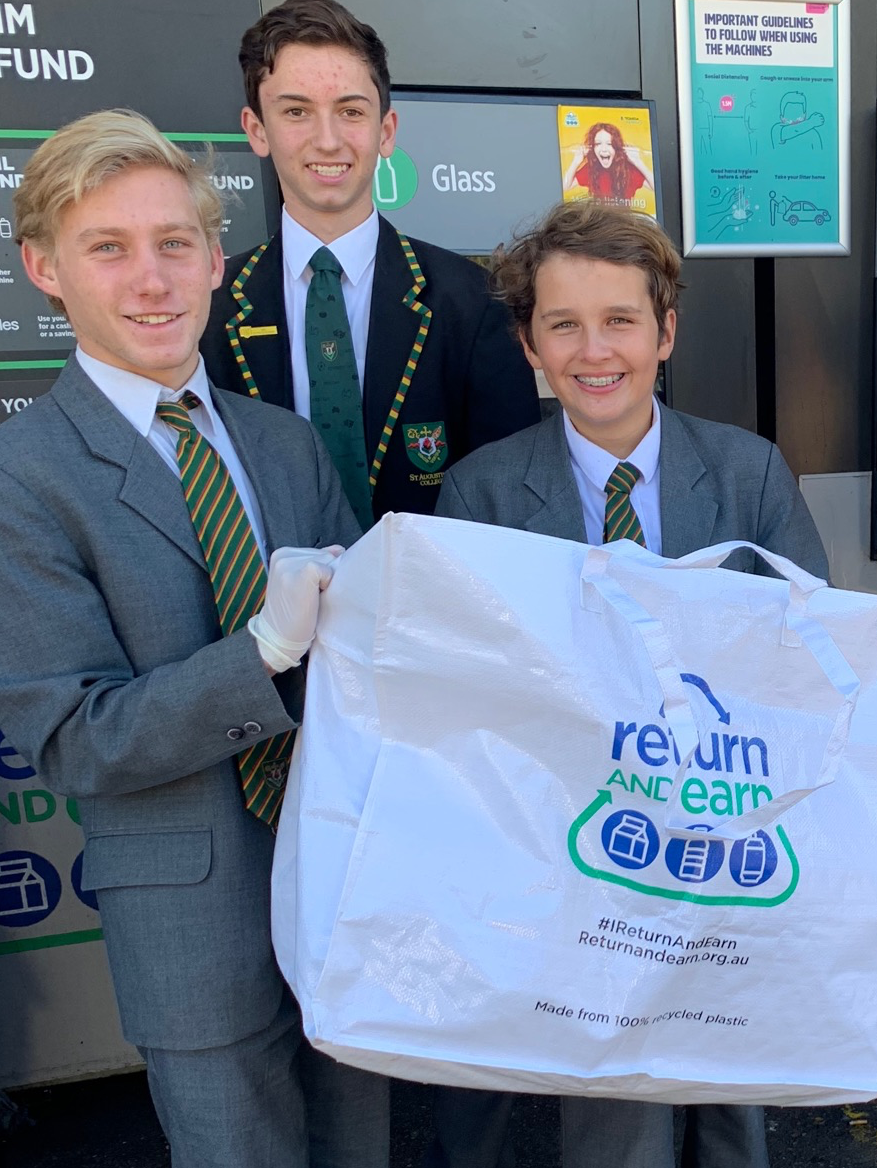 ---
St Augustine's SRC plans ways to engage their peers in container returns
At St Augustine's College in Brookvale the Student Representative Council (SRC) is leading the way in container recycling.
"Our main inspiration was to minimise rubbish in our own playground," says SRC executive member Rick Andrews. He adds that the SRC realised the best way to incentivise recycling was for the money from the the 10c apiece refunds to go directly towards items that would benefit students – so some of the first purchases planned are new bike racks, microwaves and contributing to a communal ping pong table.
Rick says it hasn't been hard to muster interest from his peers though. Students at the school tend to be highly engaged in environmental issues and sustainability, both through classroom learning and in their lives outside of school.
"Students at Saints are concerned about the environment when it begins to impact on their beloved beaches and parks," says SRC member Hugh Brogden. "As young individuals in a part of the world which has growing awareness of pollution and other environmental issues, we as a collective student body are concerned about our sustainable practises."
While the Return and Earn collections have only recently begun, several hundred containers have been returned already. The SRC is planning ways to encourage students to use dedicated Return and Earn bins, and are trying to construct a giant cage to use for container returns. The SRC also has plans to install a basketball hoop over the bin, so students can 'shoot' their empties through the hoop.
SRC Facilitators and teachers Stephanie D'Arcangeli and Alexandra Davis explain that Return and Earn fits with the ethos of the school, as sustainability is something covered in several classes, in different ways. "Through Religion, Design & Technology, STEM and Science we engage in lessons where we learn how utilising sustainable practices and materials can have a positive impact on the human experience," says Alex. "Additionally, through subjects like Geography and History we learn about the growing impact that humans have on the environment."
The school makes sure to practice what it teaches, and is moving toward sustainability practices including installing solar panels and rain water storage.
"Students' awareness and willingness to participate in recycling is a reflection that they believe the is important and in a small way making positive difference," says Stephanie
Find out more about how your school can be involved with Return and Earn.
Return and Earn is a partnership between the NSW Government, scheme coordinator Exchange for Change and network operator TOMRA Cleanaway.