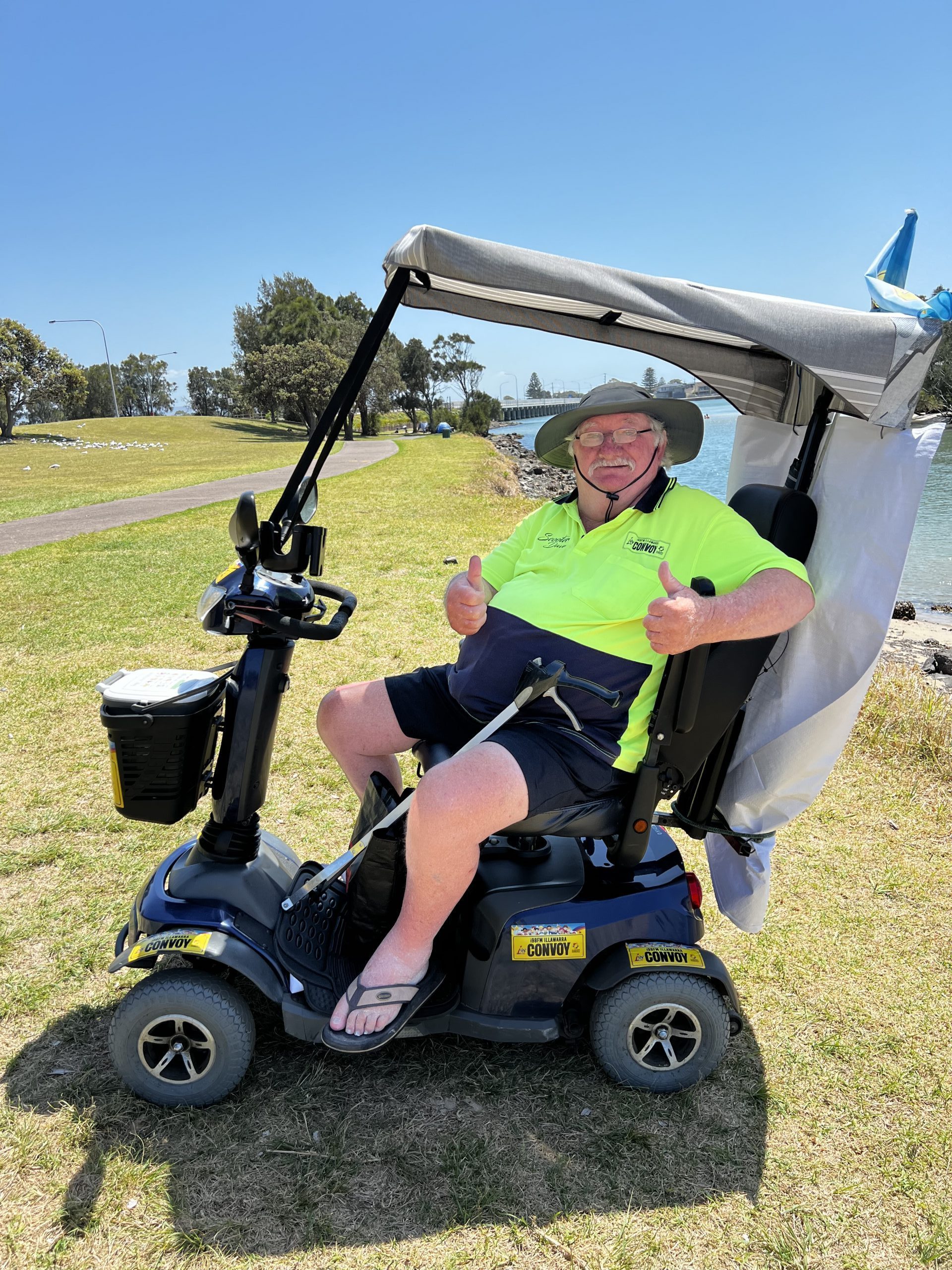 ---
Local Shellharbour legend has collected 500,000 containers for charities
Since Return and Earn launched five years ago, Dave Williamson, affectionately known as Scooter Dave, has collected 500,000 drink containers around the Shellharbour area and donated the refund from Return and Earn to charities and local community groups.
"I've collected half a million containers so far. I'll keep doing this as long as I can and will keep giving the money from the refunds to people who need it." said Dave.
His selfless efforts have resulted in around $50,000 donated to charities and groups including the local fire brigade, the children's ward at Wollongong Hospital, Sydney Children's Hospital, Red Cross, the local paddling club, and many more.
In his late 60s, Dave gets around on a mobility scooter and is a familiar face in the Shellharbour community. He takes responsibility for keeping the Windang Bridge clean and free of litter left behind from people fishing on the bridge.
He adopted the name 'Scooter Dave' after being recognised by local radio station WaveFM for his commitment to keeping Windang Bridge and the local surrounds clean. After learning that his scooter kept breaking down, the station raised money to gift Dave a new scooter. After that, the name stuck.
Every day when weather and health permits, Dave starts at the crack of dawn and carves a 10km round trip that includes cleaning the bridge and picking up drink container litter for recycling through Return and Earn.
"I've got several businesses and residents who keep their cans, bottles, and cartons in their yard for me to pick up. It gives me something to do and I get to do something good for the environment and the community," Dave said.
In recent years Dave bought a second scooter for his cleaning work so that he always has a charged one ready to go.
His contributions to the community through Return and Earn have been recognised locally. In 2018 he received the Shellharbour Citizen of the Year award and in 2021 he was awarded the Rise and Shine Basil Ryan Environmental Award – named after a 70 year old local West Wollongong man who collected over 100 bags of rubbish from around his area.
In 2021, Dave donated $5,000 in container refunds to the i98FM Illawarra Convoy – the largest truck and bike convoy in the Southern Hemisphere with funds raised supporting the Illawarra Community Foundation.
His story has been highlighted on local television and radio, with many calling him a local legend.
"I'm not a legend. Cleaning the bridge and picking up empty containers gives me something to do every day, and when I donate money to charities and people who need it, it makes me happy that I'm helping someone," he said.
Learn more about donating here.
Return and Earn is a partnership between the NSW Government, scheme coordinator Exchange for Change and network operator TOMRA Cleanaway.