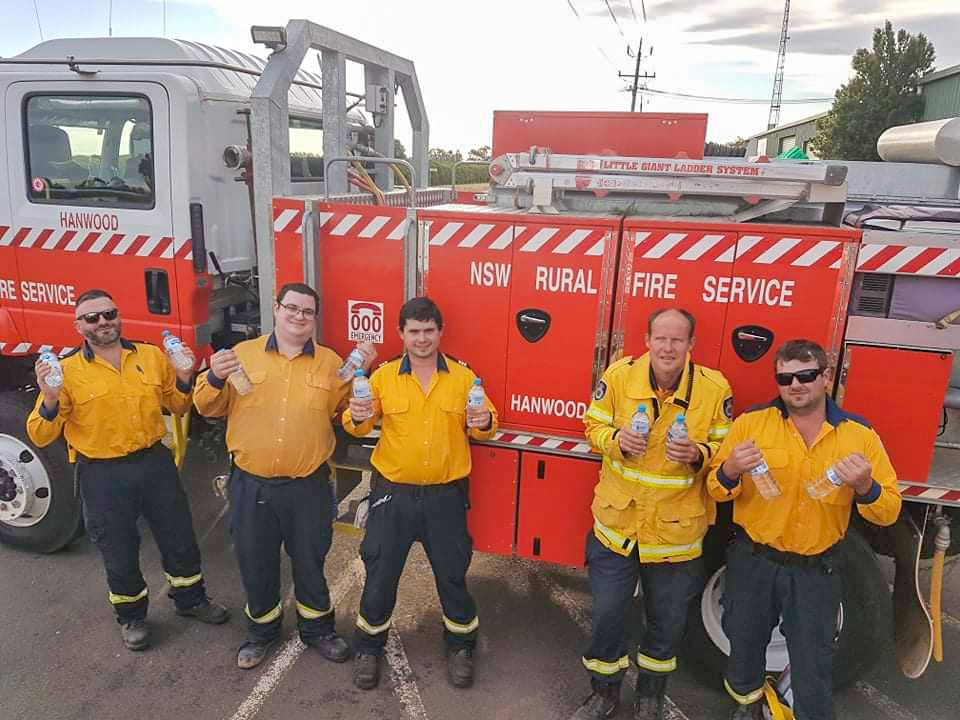 ---
Rural Fire Brigade gets training boost with Return and Earn
Hanwood Rural Fire Brigade, based in the Griffith region, is made up of 25 volunteer members and responds to 110 incidents in an average year. They assist the community, attending emergencies from fires to car accidents and providing support to other emergency agencies.
To keep members hydrated and in top form, the brigade provides 600ml bottles of water during incidents. Following a particularly long session on the fire ground, with members attending a wide range of incidents, one of the members realised that there was potential to fundraise for their brigade with the empty bottles.
Brigade Captain Adam Bertolissi said the idea to fundraise by depositing empty containers with Return and Earn was a way to create a steady trickle of income throughout the year. It means members can spend less time fundraising for the various station upgrades, and more time participating in vital training activities.
Members bring in their empty containers from home to be recycled, and thanks to advertising through their Facebook and Instagram pages, community members donate empty bottles to the station. Hanwood even offers a pick-up service for locals who wish to donate in bulk.
They have raised almost $1,500 since starting in 2019, and every dollar of that goes straight into the Hanwood Brigade.
Currently they are using the funds to help build a gym at the station. Adam says this will help members increase their physical fitness to ensure they are 'fire ground fit 'and ready for the next fire season.
He adds that further upgrades are also on the cards if they can get enough empty bottles to recycle. This includes upgrading the training room and improving the outdoor training facility.
To find out how to donate message the brigade via its Facebook page: NSW RFS – Hanwood Brigade
Find out how you can fundraise through Return and Earn like the Handwood Brigade.