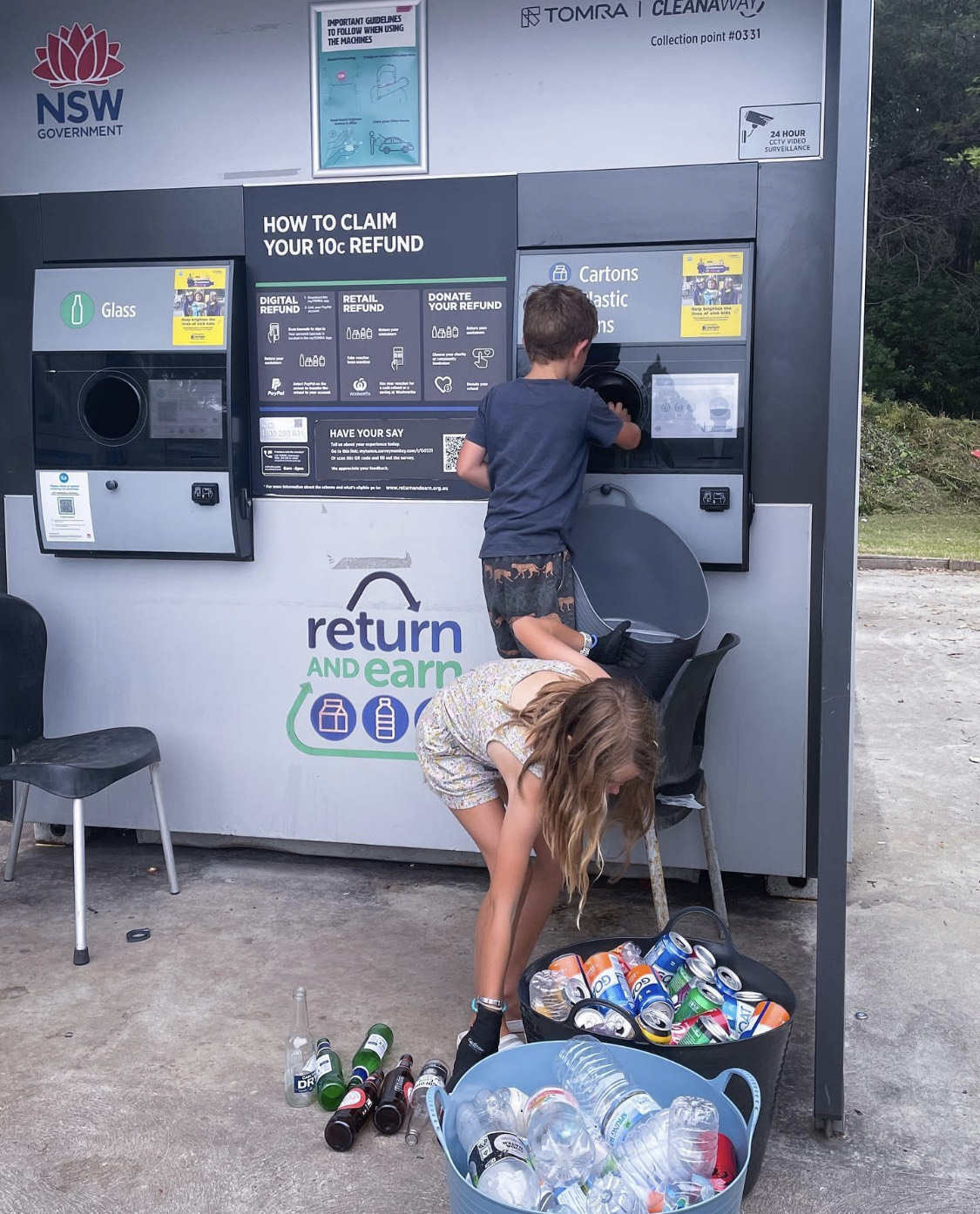 ---
Road tripping kids collect cans to earn some pocket money
Vanessa and James Harris taught their children about value of money by recycling drink containers through Return and Earn machines along the NSW coastline.
Earlier this year the family took the plunge, packing up their home in Gisborne, Victoria, and hit the road for a 12 month trip around Australia. James is working remotely along the way, while Vanessa, a teacher, homeschools the children.
"My husband and I had been discussing how to replace pocket money that we had given out for daily chores at home. We wanted to allow the kids to treat themselves, choose something from a local market, or save up for a big ticket item, while developing an understanding of the value of money," said Vanessa.
"A friend mentioned the fantastic NSW scheme 'Return and Earn' whereby you recycle cans, cartons and bottles and in return receive 10c per container. We thought this was a brilliant idea and knew straight away that our children would grab onto this with both hands and run!"
Vanessa was right—Sophia, 9  Beau, 7 and Huxley, 4, thought this was a great opportunity. They have been Return and Earning all along the NSW coast, as they visited Bermagui, Ulladulla, Kiama, Port Stephens, Coffs Harbour and more.
Sophia said that they have earned $210 so far, which means each child has earned $70. "I have brought myself a skateboard, toy and special treats, and have a little left that I am saving for now," she said.
The kids all said that caravan parks are the best places to collect containers. "We walk around with our plastic tubs, introduce ourselves to other campers and ask if they have any bottles or cans that we could recycle for them," said Beau. "We often end up chatting about our travels and what we were saving up for. The grey nomads sometimes seek us out the following day and give us more to add to our collection."
Vanessa also saw opportunities to bring Return and Earn into the children's homeschooling. They have practised their math skills by calculating how much they will earn, dividing the money earned between them, and individually planning how to spend or save their own share. The children have also learned about sustainability, including how recycling works and the impact of litter on the world.
The children were particularly concerned about the impact of waste on wildlife. "We have learned that animals are getting sick because so much rubbish is not being put in the bin. That landfill is where all the rubbish that is not recycled goes, and that leaks nasty chemicals that the animals inhale," says Huxley.
Follow their adventures at #oncloud5
Find your nearest return point here.
Return and Earn is a partnership between the NSW Government, scheme coordinator Exchange for Change and network operator TOMRA Cleanaway.