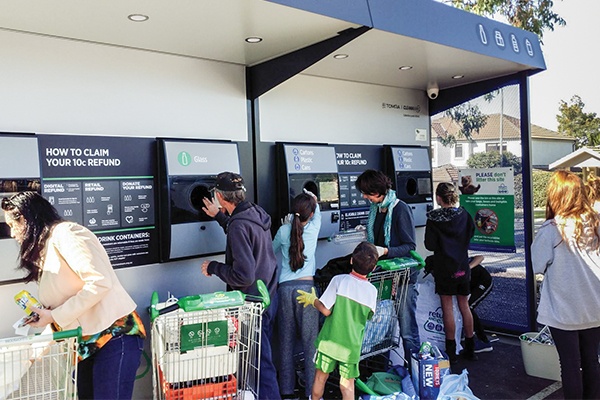 ---
Return and Earn's resounding numbers
Waste Management Review, 6 July
The overall kerbside recycling rate for beverage containers in NSW prior to the introduction of Return and Earn in NSW was 33 per cent. Since the introduction of Return and Earn, the total rose to 61 per cent by the end of March 2018, representing 196 million containers recycled that would otherwise have ended up in landfill or the litter stream. That's according to the latest figures released by scheme coordinator Exchange for Change, which has forecast an even stronger beverage container recycling rate of beyond 70 per cent by the end of June this year.
Strengthened by a joint venture between Cleanaway and reverse vending machine (RVM) inventors TOMRA, the state's container deposit scheme has a resoundingly positive story to tell just six months out from its commencement date of 1 December.
In the largest litter-reduction initiative ever introduced into NSW, Return and Earn has enabled the community to reap the benefits through fundraising initiatives for schools, sporting clubs and local charities.
Orchestrating such a large-scale initiative comes with responsibilities and priorities, including providing a structured roll-out that meets community needs, while ensuring all major regions have access to collection points. Likewise, achieving pure material streams cost effectively while future-proofing for ongoing packaging changes has been a key focus for the joint venture.
Read full article at Waste Management Review