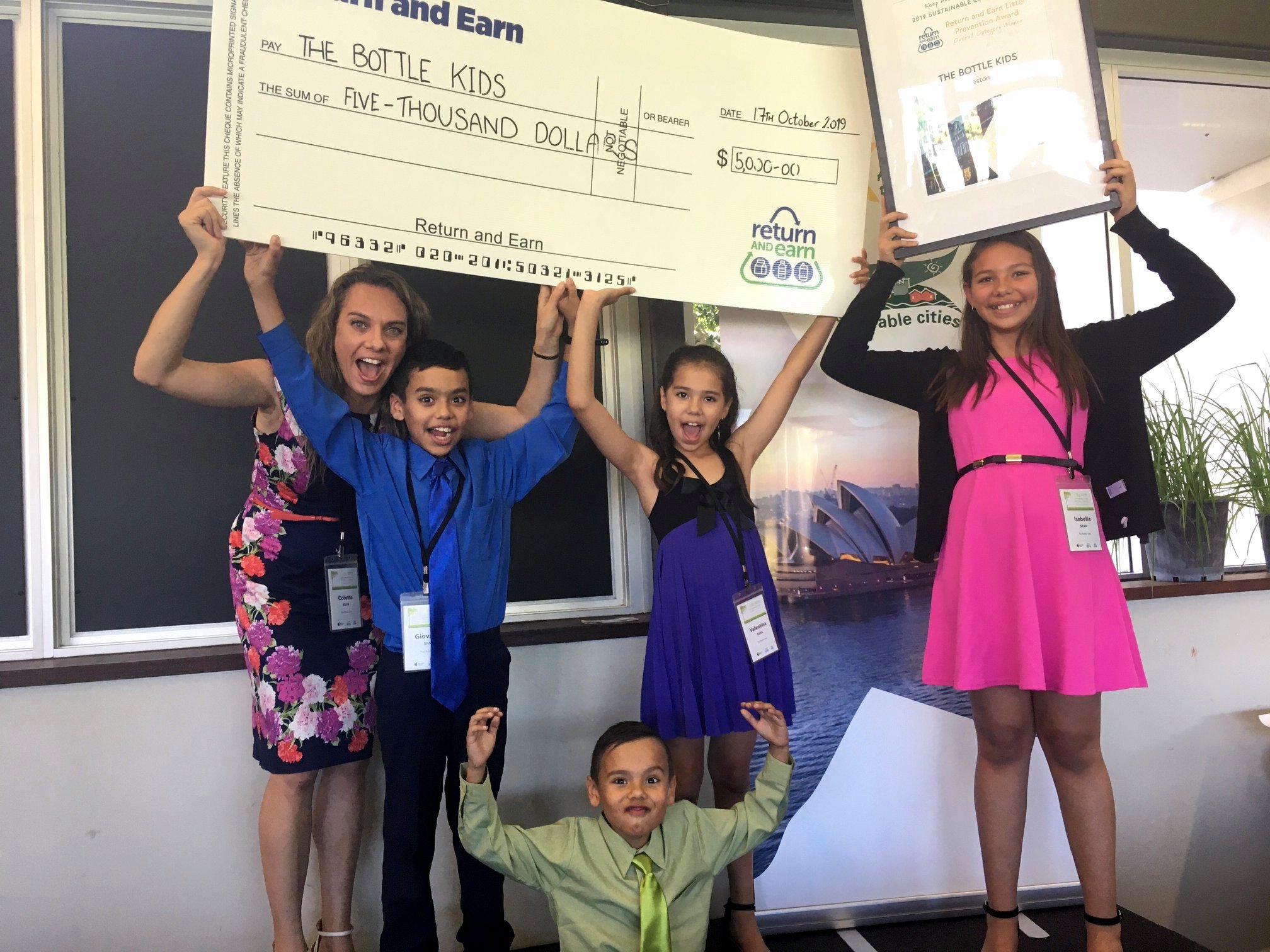 ---
Return and Earn recycling champions recognised at Keep Australia Beautiful Awards
Four young siblings from Prestons have won the Overall Return and Earn Litter Prevention Award at the prestigious Keep Australia Beautiful NSW 2019 Sustainable Cities Awards.
At a presentation on 17 October 'The Bottle Kids' were recognised for their outstanding work in promoting the NSW container deposit scheme and donating funds raised to the Liverpool Hospital Emergency Department.
Isabella Silva, 11, Giovanni, 10, Valentina, 8, and Romario7, began their venture, The Bottle Kids, to earn some pocket money and encourage their neighbours to recycle. They offer a free bottle and can collection service to local residents, as well as to cafes and other businesses. The children also collect containers by picking up litter.
Since beginning their enterprise in December 2018, The Bottle Kids have collected and returned more than 16,400 containers, receiving a 10c refund per container.
This success meant they were able to donate some of the money they raised to the Liverpool Hospital Emergency Department – a cause they selected themselves.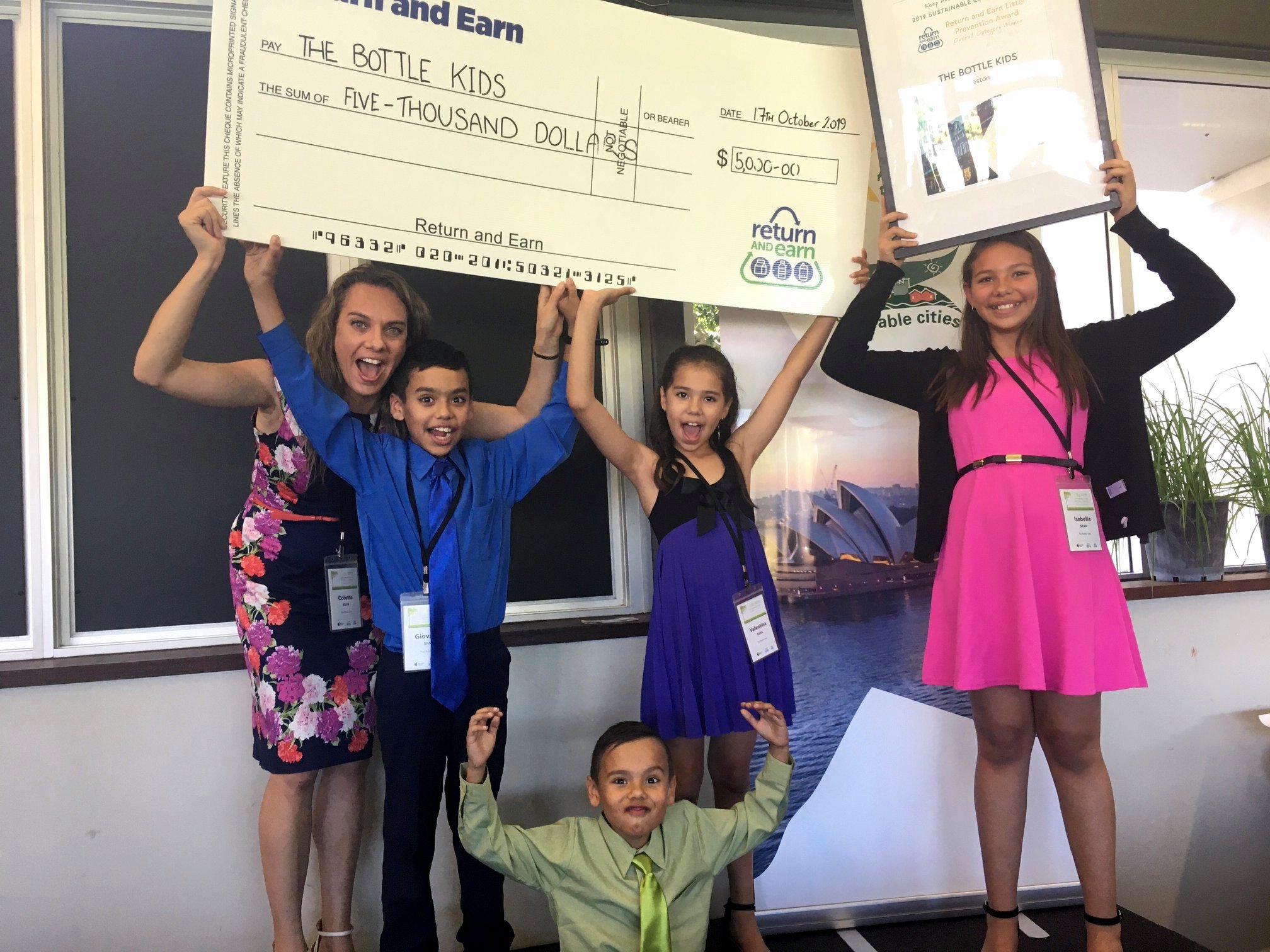 As well as the overall award won by the Bottle Kids, winners were recognised in the sub-categories of Schools, Individuals and Non-profits.
Mosman Public School won the Schools category for its outstanding recycling initiative which teaches students about sustainability while also fundraising for environmental charities.
The school fundraised to purchase specialty recycling bins to collect bottles and cans, which are then taken to the local Return and Earn point at Taronga Zoo. The initiative is run by Year 5 and 6 students in the school's Sustainability Club, with support from a Sustainability Committee of parents and teachers. All the funds collected from returned used drink containers are donated to environmental charity 'Take 3 For the Sea', which works to reduce litter around oceans, waterways and beaches. In this way, recycling and sustainability has become an integral part of the school's culture.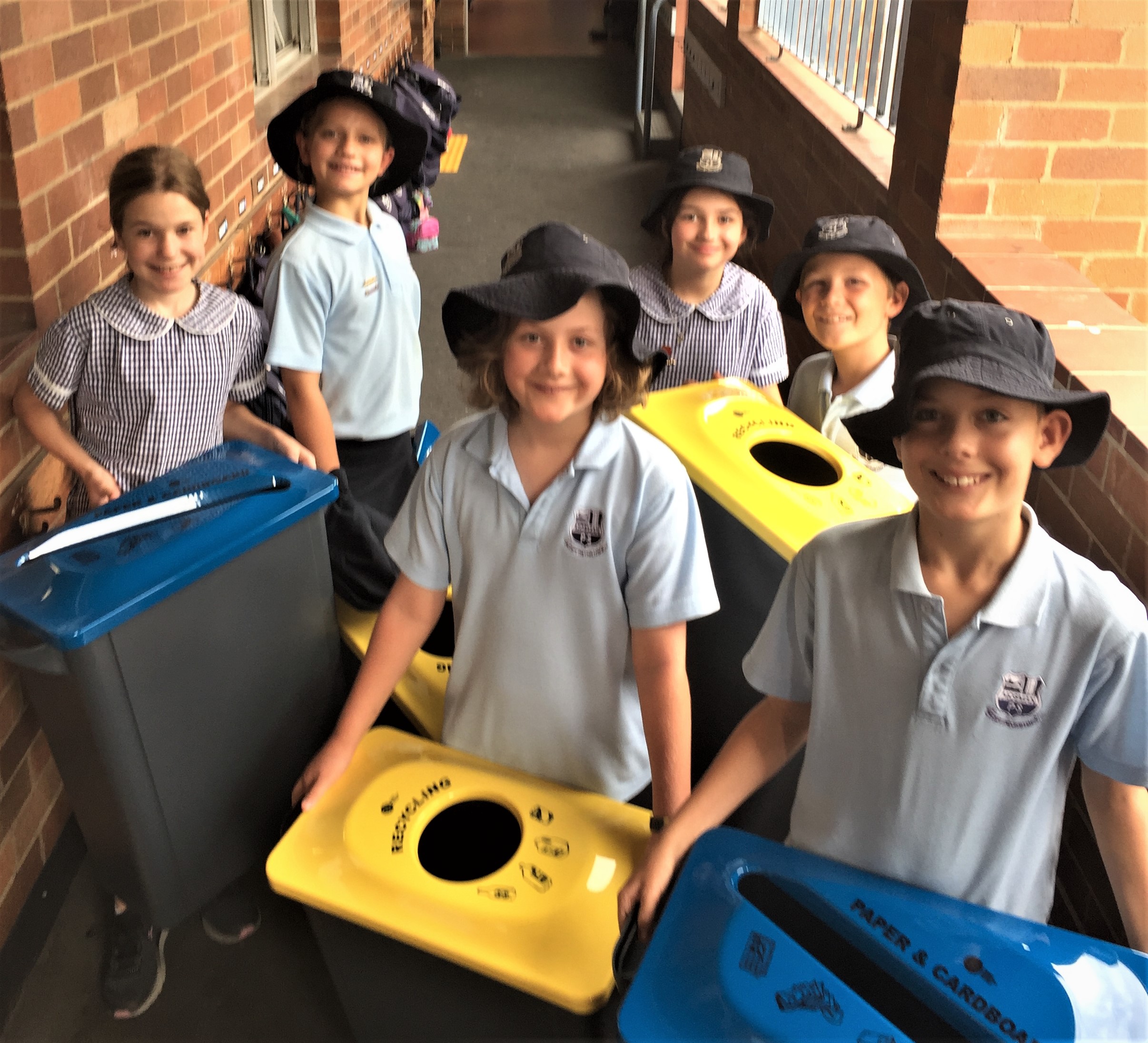 Alexander Roberts won the Individual category for his incredible efforts in container recycling to fundraise for international children's charities.
Alex began collecting and returning cans 13 years ago at the age of six to raise money for a Vietnamese orphanage. Later he directed funds raised to World Vision and Save the Children, always working closely with his school and other community organisations to collect cans. His longest running association is with the cleaners at Auburn Hospital, who supported his efforts from the beginning. Between them, they ensure that all eligible drink containers from the hospital are collected and recycled. When Return and Earn was launched in December 2017, Alex expanded his operation to include bottles as well as cans to their collection bins. Alex's mantra is '20 cans and bottles will vaccinate a child for life'.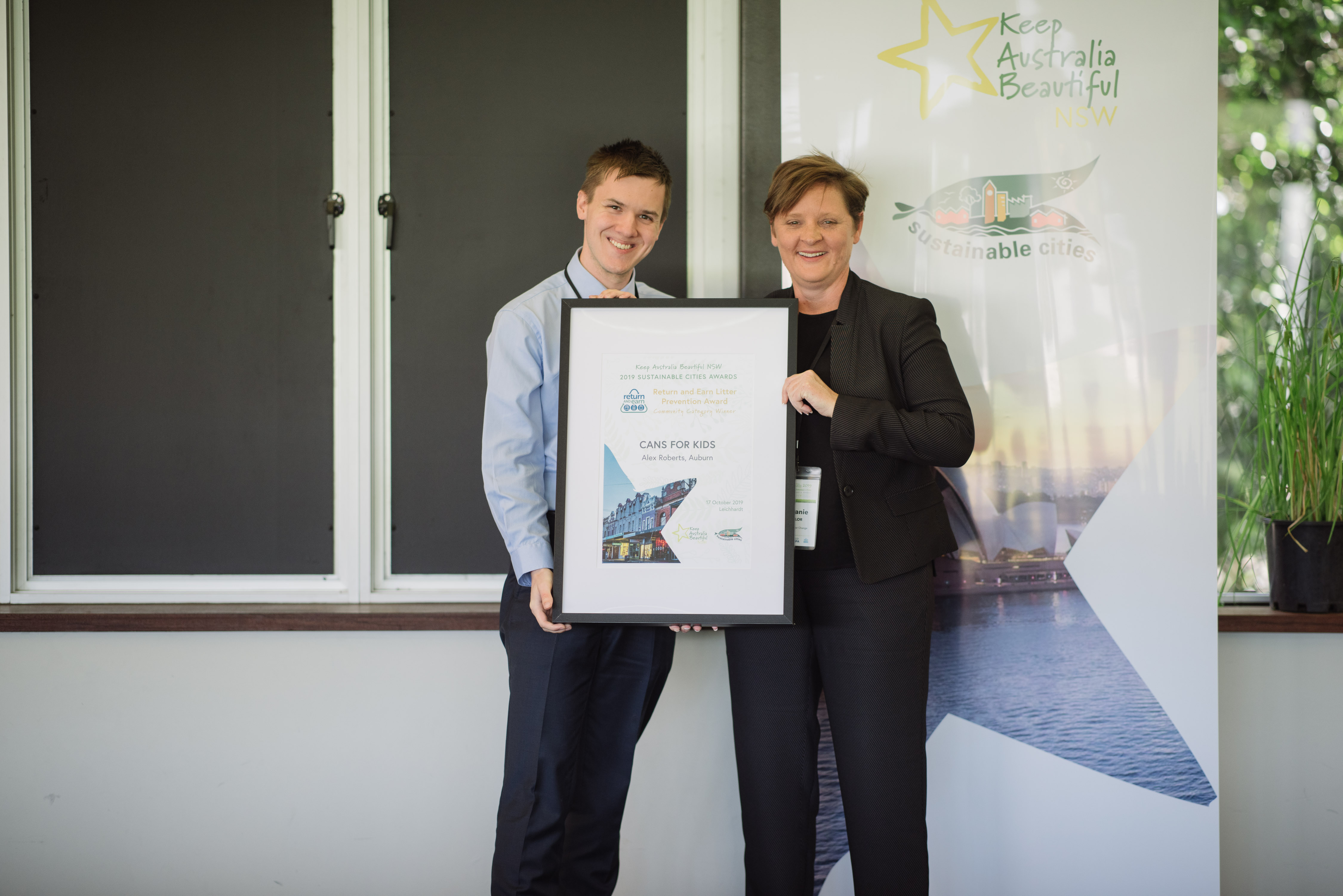 Mount Annan's Macarthur Centre for Sustainable Living (MCSL) won the Non-profit category for its innovative use of Return and Earn to both make recycling part of the community, and to use the money raised to support other initiatives at the centre.
The MCSL is a community hub providing educational workshops about the environment and opportunities for local residents to be involved in a range of activities on site. By returning eligible containers through the Return and Earn scheme, the centre has been able to raise funds to purchase supplies for barista training for unemployed youths. Funds raised also go towards consumables such as milk for children in the centre's playgroup, and snacks, tea and coffee for people participating in other programs and trainings.
The broader community has become involved in collecting used drink containers for the centre, bringing diverse people together while engaging the community in recycling and sustainability.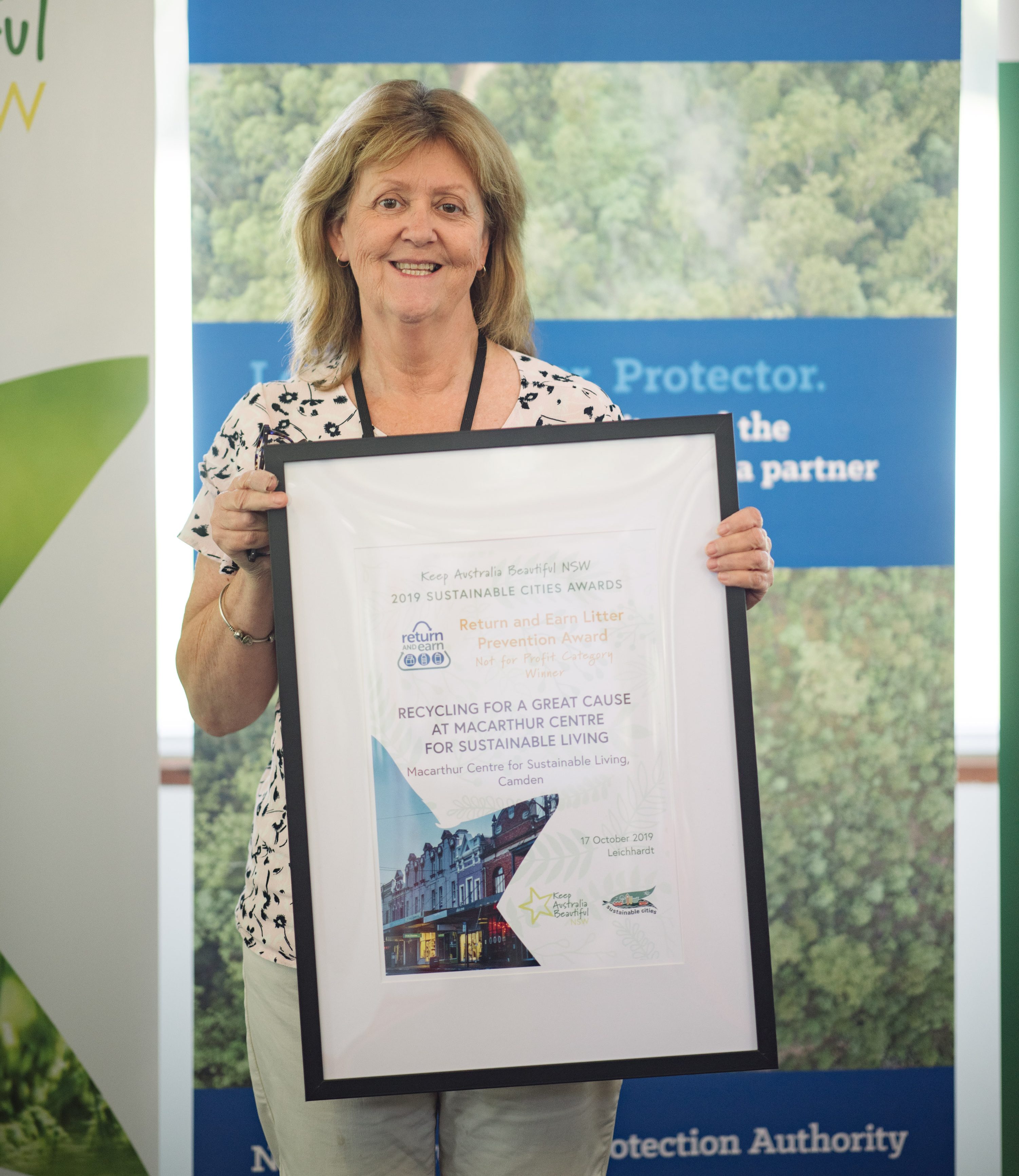 The Keep Australia Beautiful NSW 2019 Sustainable Cities Awards recognise, celebrate and reward the sustainability initiatives of NSW metropolitan councils, businesses and community groups and are organised by Keep Australia Beautiful NSW (KAB NSW).
Through Return and Earn, consumers receive a 10c refund for each eligible drink container returned at any of the 640 return points across NSW. Since launching in December 2017, more than 2.4 billion drink containers have been returned for recycling via Return and Earn resulting in a significant reduction in the volume of littered drink containers in NSW.
You may find more information about Return and Earn on this website, including great ways to fundraise or to find your nearest return point.
Read more about Keep Australia Beautiful NSW.