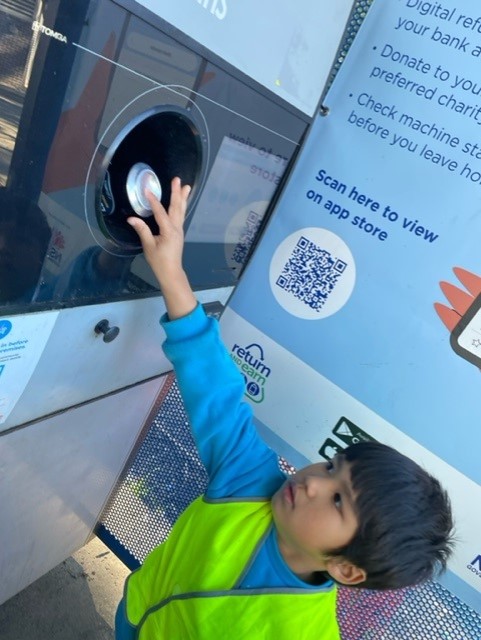 ---
Tiny tots tell their recycling tales at Seedling Childcare
At Seedling Kids Childcare in Croydon Park, owner Angela Nucifora, believes sustainability starts with everyday practices, and recycling drink containers is a part of the daily activities.
"I am passionate about guiding children to help them understand and value sustainability and to connect with nature," she said.
Each room at the childcare centre has a recycle station to collect all the empty drink containers for Return and Earn. Angela said that the funds raised through the container deposit scheme are usually donated to different charities.
Environmental awareness is integrated into the childcare centre through engaging the children in play that involves natural materials, like wood, sand and stone. Staff engage children in discussion about issues such water conservation, energy efficiency and waste reduction. Children also participate in nature walks, and grow and cook food together.
"Children should learn to be environmentally responsible and be empowered to make a difference, and this learning should not wait until the "formal education" of primary school,' she said.
Angela said that class excursions to the local Return and Earn machine outside Magpies Sports Club have proven popular with the young children. "It's a short trip away and we usually do some composting and feed the chickens at Magpies Nest Community Garden next door," she said. 
And here's what the children had to say about it:
"I like to go to Return and Earn cause we get to put the bottles in the machine and it eats them up," Alessandro (aged 5)
"I like to recycle the bottles and put them into the machine 'cause it's good to recycle," Noelle (aged 4)
"I put the bottle in with my mum and with school. There is a recycle bin and a big recycle station to recycle at," Kaelen (aged 4)
"It's important to recycle because it helps to keep the water and our world clean," Sofia (aged 3.5)
"It's important to recycle and we do it because if you throw the rubbish at the beach, animals will eat it and die," Chloe (aged 4)
"You pick up rubbish or it will go down the drain and the animals will get sick," Aria (aged 2.5)
Return and Earn is a partnership between the NSW Government, scheme coordinator Exchange for Change and network operator TOMRA Cleanaway.