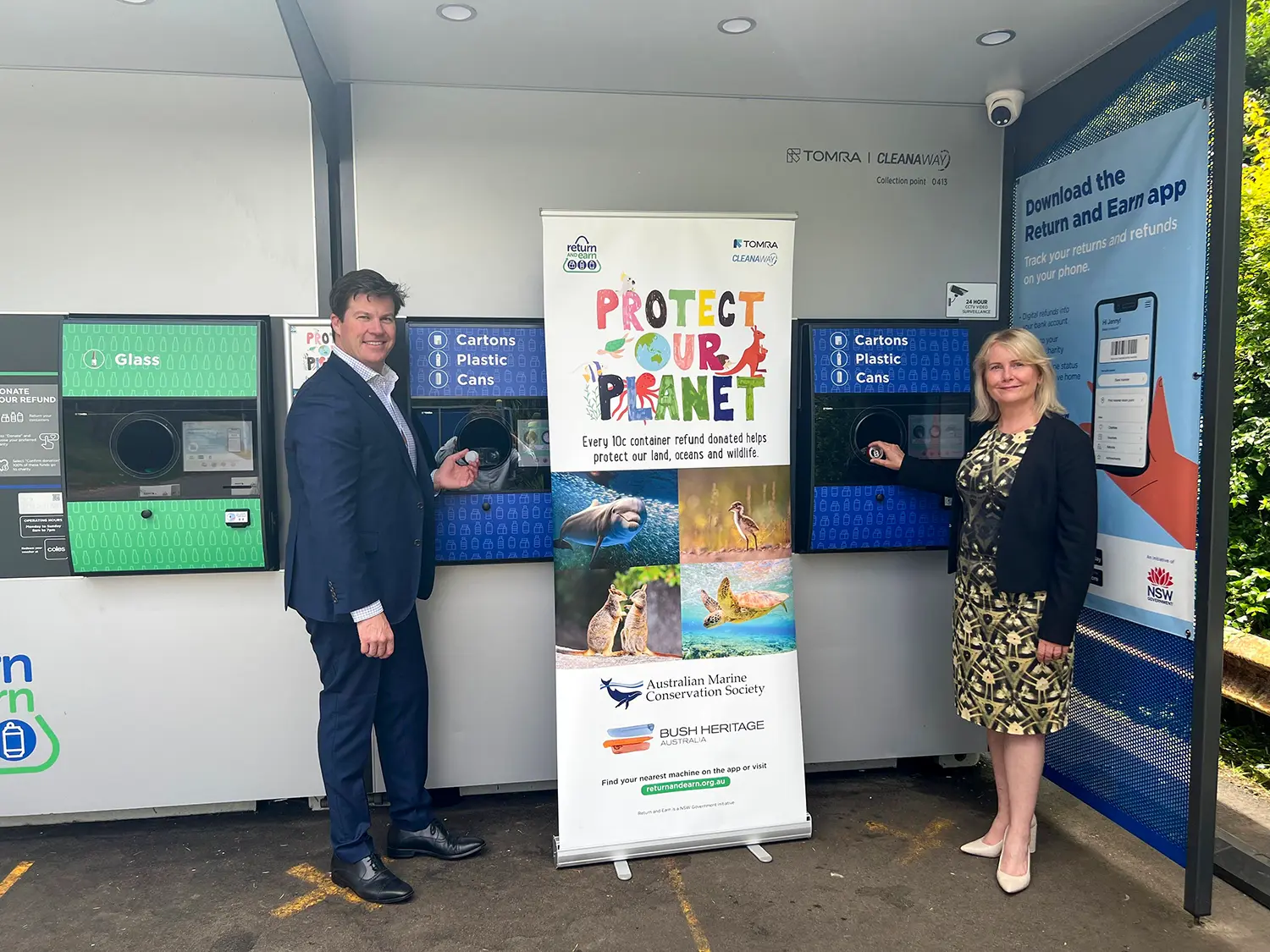 ---
Recycling raises $158,000 to protect Australia's native species
Environmentally-minded community members in NSW have given a major boost to two Australian charities working to protect our planet, just by recycling their bottles and cans through Return and Earn.
The Australian Marine Conservation Society and Bush Heritage Australia partnered with Return and Earn to encourage NSW recyclers to donate their container refunds to support the organisations.
The six-month Protect Our Planet appeal surpassed its goal of $150,000, raising nearly $8,000 over the target by the end of April. Funds raised will support the Australian Marine Conservation Society's work protecting oceans and coastal ecosystems, including sea-life such as turtles, whales and sea lions. Funding received by Bush Heritage will support its goal to safeguard Australia's land and native species, such as the endangered Greater Bilby and Carnaby's Cockatoo.
The appeal was a win-win for the environment as it also diverted nearly 1.58 million bottles and cans from ending up as landfill or litter, and potentially finding their way into waterways and harming wildlife.
"We are thrilled to support this vital environmental work and grateful to our community of recyclers who make it possible. As Return and Earn goes from strength to strength, the success of a scheme continues to deliver benefits across sustainability, litter reduction, environmental protection and fundraising," said James Dorney, CEO of TOMRA Cleanaway.
Bush Heritage Executive Manager Engagement Vibeke Stisen said that thanks to the generosity of NSW recyclers, Bush Heritage will be able to continue their vital conservation work, focusing on restoring and protecting habitats for our precious native wildlife.
"The funds raised demonstrate the power of collective action—together, we can protect our environment," Ms Stisen said.
"By donating their 10c drink container refunds to Australian Marine Conservation, recyclers have kept hundreds of thousands of plastic bottles out of our oceans while helping us protect our threatened and endangered turtles, whales and seabirds. Thank you to all recyclers for being the wind in our sails," said Darren Kindleysides, Australian Marine Conservation Society Chief Executive.
"Since launching in December 2017, Return and Earn has raised a remarkable $47 million to charities and community groups from donations and return point hosting fees. We began as a litter reduction scheme and fast evolved into a powerful force for good in a multitude of ways," said Danielle Smalley, CEO of Exchange for Change, scheme coordinator for Return and Earn.
As well as the bottles and cans returned in NSW, consumers in South East Queensland, Western Australia and Northern Territory donated their container refunds through TOMRA operated deposit points.
You can can still donate to the Australian Marine Conservation Society or Bush Heritage Australia with the Return and Earn app.
Return and Earn is a partnership between the NSW Government, scheme coordinator Exchange for Change and network operator TOMRA Cleanaway.