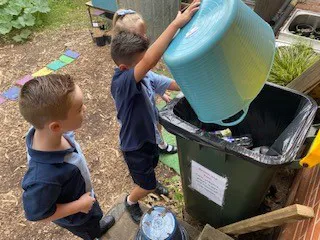 ---
Recycling, composting and gardening: primary school kids see environmental benefits firsthand
Teacher and passionate environmentalist Rose Everingham is leading the next generation of recycling heroes at Regentville Public School and has introduced Return and Earn to the school as part of her initiatives.
Rose, who teaches school kitchen gardens and environmental education, saw an opportunity to revamp the recycling at the school.
She organised labelled tubs outside every classroom, the canteen and the library and each term, two students are appointed as Return and Earn monitors and collect the empty containers from the tubs. Rose then returns the containers each week at her local return point.
"I find it really fulfilling to look at what I'm returning and how much we're getting back from it," she said.
The funds raised go straight back into the school, purchasing gardening equipment and seedlings.
"The students are excited about doing their bit for the environment. Some of them tell me about how they have started recycling at home too," she said.
The program allows students to see the tangible benefits of recycling first-hand.
"It's not superficial fluff because the kids see it happen. They see compost added to the garden, which helps the vegetables grow. They see the amount of cans returned each week and see what we can buy for the garden with the money we make from that," she said.
The school has a full bush tucker garden, along with citrus trees, apple trees, pear trees, passionfruit, pumpkins, basil, kale, beetroot, nasturtiums, parsley, mint, and corn.
The school uses second-hand compost bins and a worm farm to feed the garden.
"Everything in the garden is donated or found on the side of the road.
"All of the produce is harvested and used in the school's kitchen. Children and parents tell me how excited they are about the garden," said Rose.
Some parents have also begun bringing empty bottles and cans to the school or donating their container refunds directly to the school. This has helped Regentville Public School to raise more than $1,000, which goes a long way to developing and maintaining the garden.
"Next term, we will introduce quails to our school kitchen garden program. Rather than raising chickens, we feel that quails will be easier to raise and care for," Rose said.
Return and Earn is a partnership between the NSW Government, scheme coordinator Exchange for Change and network operator TOMRA Cleanaway.