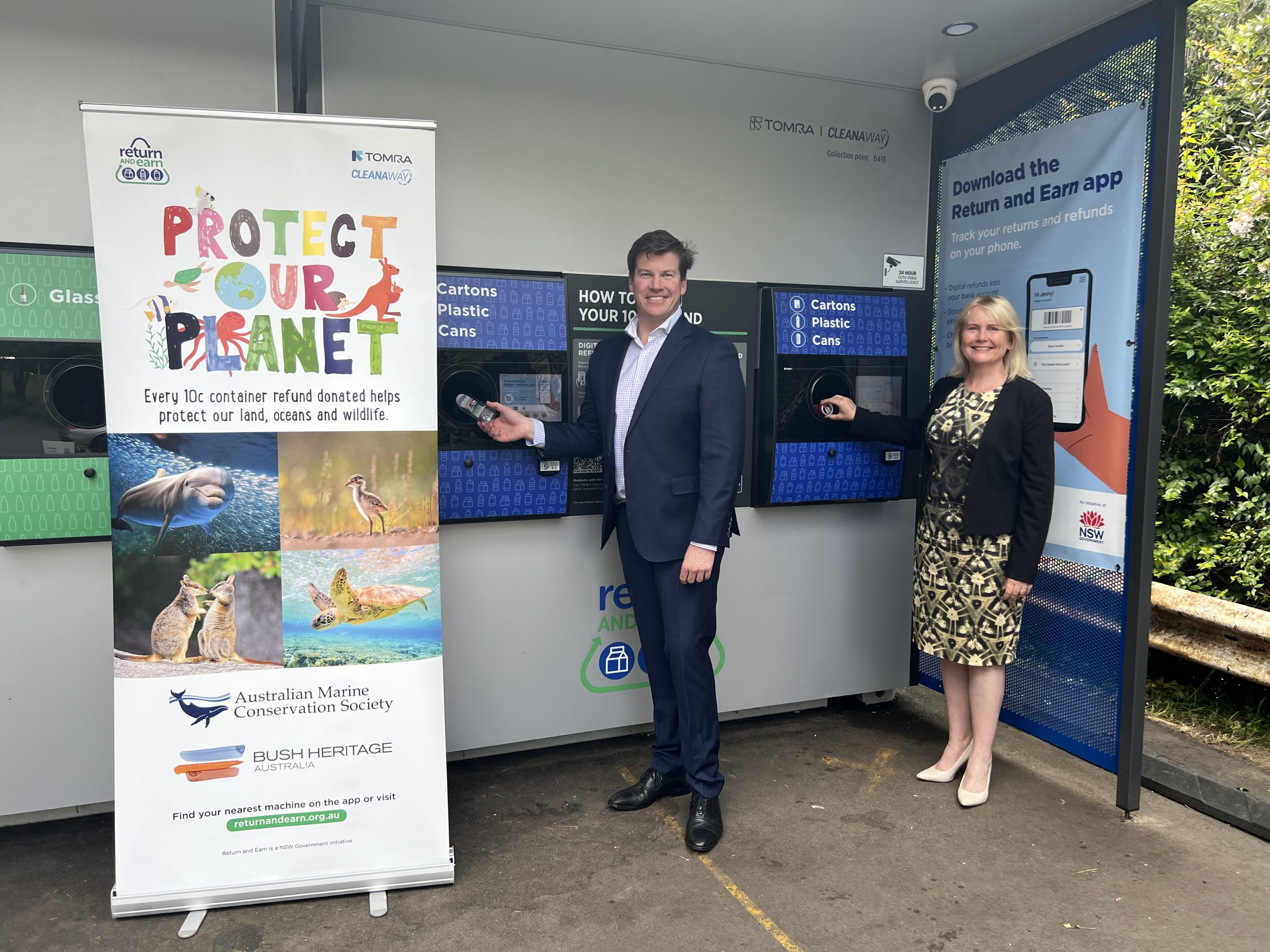 ---
New recycling appeal doubles down on environmental benefits
Return and Earn is calling on all NSW recyclers to support its latest statewide recycling appeal 'Protect our Planet' with double the environmental wins. The 10c refund from every container donated will help protect and restore our unique habitats while each container returned results in less litter and less landfill.
The appeal aims to raise $150,000 in support of the Australian Marine Conservation Society and Bush Heritage Australia and recycle 1.5 million bottles and cans.
"This year, National Recycling Week is about reducing waste and recycling better. There's nothing better than the 'win-win' of recycling your eligible bottles and cans through Return and Earn and donating the container refund to help protect our land, oceans, and unique wildlife through the Protect our Planet appeal," said James Dorney, CEO of TOMRA Cleanaway, network operator of the scheme.
Anyone using a Return and Earn machine from now until April 2023 can support the appeal by selecting the 'donate' option when returning their eligible containers, then choosing either charity to donate their container refund to. They can also donate their refund by using the Return and Earn app.
The Australian Marine Conservation Society is Australia's only national charity dedicated to preserving ocean wildlife including protecting the habitats of Australia's endangered and unique turtles, whales, and sea lions.
"Every 10c container refund donated will help us save the lives of whales, turtles and seabirds who are being killed by ocean plastic every day," said Darren Kindleysides, CEO of the Australian Marine Conservation Society.
Bush Heritage Australia is a not-for-profit conservation organisation that buys and manages land and partners with Traditional Owners and the agricultural sector to protect our landscapes and native species forever. Bush Heritage protects 7,716 native species of plants and animals, including endangered animals such as the Greater Bilby and the Carnaby's Cockatoo.
"Every single action can make a difference when it comes to keeping Healthy Country, Protected Forever and it's amazing to see community initiatives such as the Protect our Planet appeal encouraging people to recycle when they can't re-use and supporting vital causes," said Heather Campbell, CEO of Bush Heritage Australia.
"Return and Earn has proven itself as a highly successful litter reduction scheme, recycling over 755,000 tonnes of materials since launching in 2017, said Danielle Smalley, CEO of Exchange for Change, scheme coordinator of Return and Earn.
"And over the next six months, recyclers in NSW can double the environmental impact of their returns by donating their refund to support the important work of these two major environmental charities while also ensuring their containers are being recycled."
Over 8.2 billion containers have been returned for recycling by the people of NSW through the Return and Earn return point network since the scheme began.
For more information on Return and Earn visit www.returnandearn.org.au or visit the App store to download the Return and Earn app.