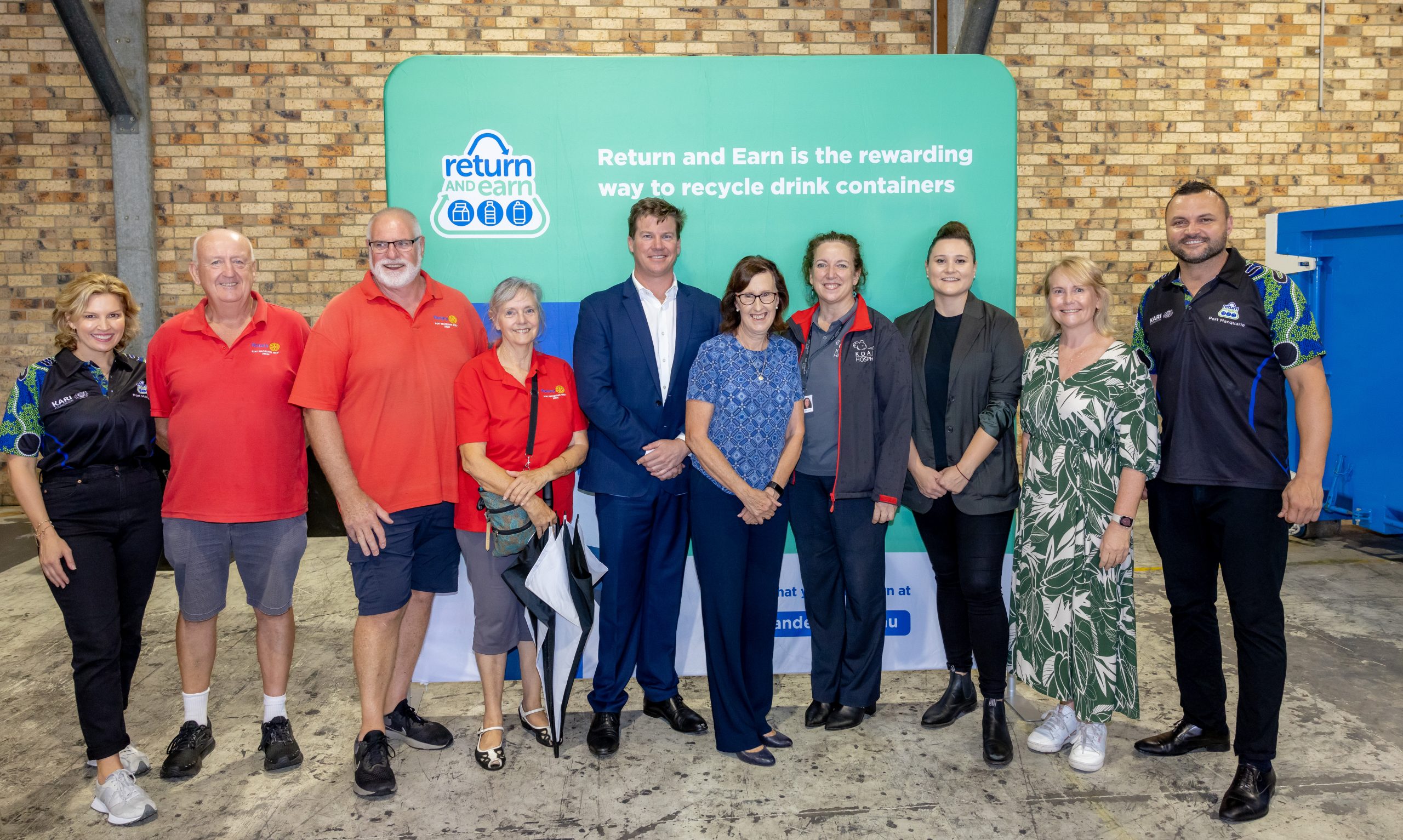 ---
Port Macquarie Return and Earn Celebrates Grand Opening
The Port Macquarie community today celebrated the grand opening of Port Macquarie Return and Earn automated depot today.
James Dorney, CEO of TOMRA Cleanaway, network operator of Return and Earn said the local Port Macquarie community are keen recyclers, having already returned almost 120 million containers since the scheme began in 2017.
"This new facility will further support the community's efforts to protect our local environment while also providing a convenient new location to raise extra funds for local community groups and charities," said Mr Dorney.
"Return and Earn's automated depots are an important part of the return point network, and enable charities to put more money back into the local community with every recycled container. Together they add to our efforts to build a sustainable NSW.
"Return and Earn has become an important fundraising channel for hundreds of charities in the last 5 years, with over $42 million raised via donations and return point hosting fees since commencement," said James.
Port Macquarie Return and Earn is owned and operated by Sapphire 2.0 and is the 9th return point in the Port Macquarie Hastings local government area.
The new facility will also support charity of choice, the KARI Foundation, a leading Aboriginal organization who provide community support programs, such as the hamper drive for elders that occurs annually in the lead up to Christmas.
Co-Owner and Operator of Port Macquarie Return and Earn Depot, Beau Champion said they are excited to part of the Return and Earn network and provide the local community with even greater access to the scheme.
"We are proud to be operating this facility which will reduce litter in Port Macquarie, provide local jobs while also delivering social benefits to the local community.
"We're also proud to provide local residents the opportunity to double the value of their participation by donating their container refund to important causes like KARI," he said.
KARI Foundation CEO Casey Ralph said this new partnership will support the Foundation's efforts to provide ongoing support to the community.
"Caring for country is very important to us at KARI Foundation and through this partnership with Port Macquarie Return and Earn and the team at Saphhire 2.0, we're looking forward to contributing to a more sustainable future, caring for our local environment while also enabling us to undertake our work in the community," said Casey Ralph.
More than 9 billion drink containers have now been returned for recycling through Return and Earn's network of 600+ return points across NSW since the scheme launched in 2017.
Port Macquarie Return and Earn is located at 25 Jindalee Road, Port Macquarie and is open 8am to 5pm on Mondays, 7:30am to 4:30pm Tuesday to Friday, and 9am to 4pm on Saturdays and Sundays.
Return and Earn is a partnership between the NSW Government, scheme coordinator Exchange for Change and network operator TOMRA Cleanaway.
Photo courtesy of Linsday Moller Productions