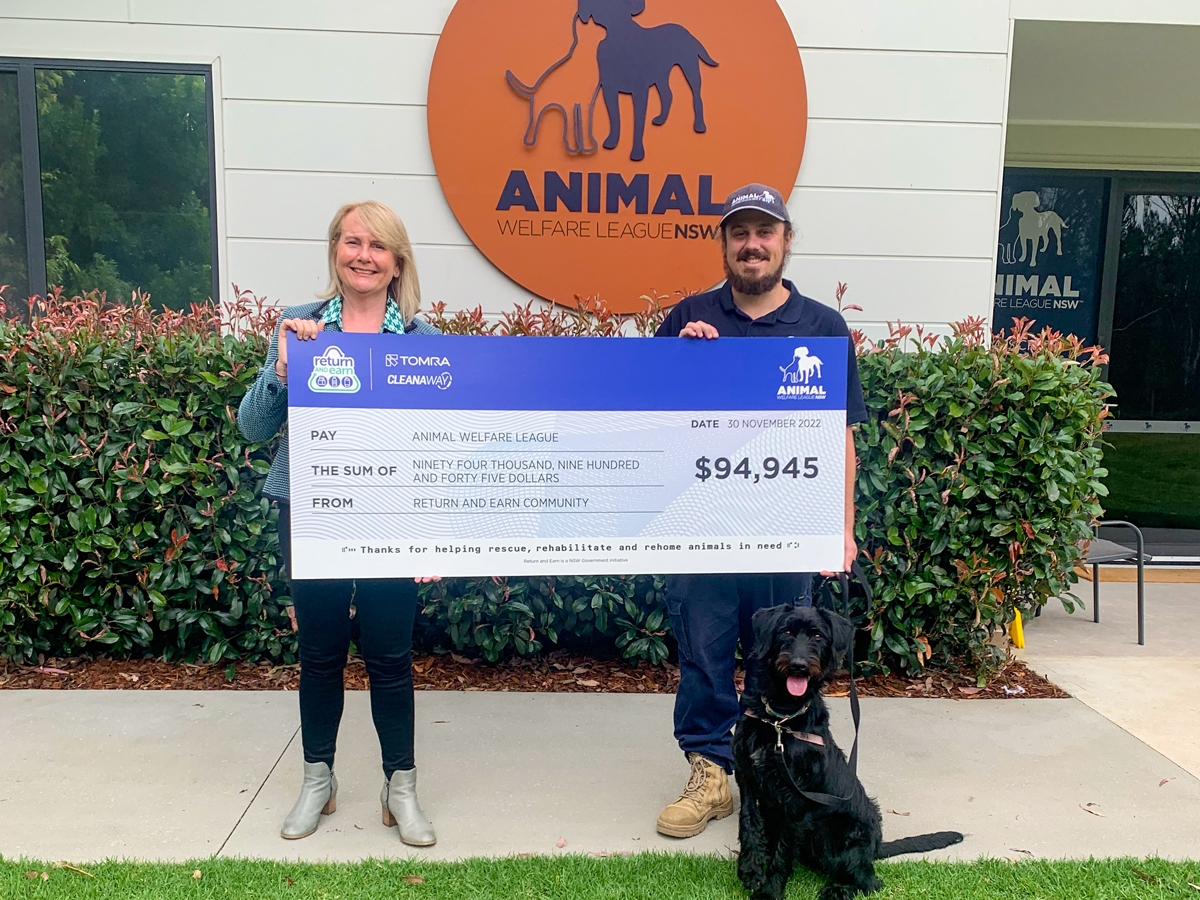 ---
NSW recyclers donate nearly one million drink containers to support animal welfare
Recyclers in NSW have raised over $94,000 to help Animal Welfare League NSW (AWL) rescue, rehabilitate and re-home animals in need by recycling a massive 940,000 bottles and cans through Return and Earn.
From April to October 2022, AWL featured as the statewide donation partner on all Return and Earn machines across NSW, enabling recyclers to donate their container refunds to the charity directly from the interactive touch screen.
"In just over six months, Return and Earn recyclers generously donated more than $94,000 in container refunds to help vulnerable animals," said Danielle Smalley, CEO of Exchange for Change, scheme coordinator of Return and Earn.
In addition to the charitable benefits, recycling the 940,000 drink containers equates to significant positive impacts for our planet including over six million litres of water being saved, nearly 57 tonnes of material diverted from landfill and 114 tonnes of carbon dioxide (CO2) emissions avoided.
James Dorney, CEO of TOMRA Cleanaway, network operator of the scheme, said "recycling drink containers through Return and Earn not only helps the environment by reducing litter, it also provides the community with an opportunity to support an important local charity like Animal Welfare League.
"We are thrilled to see so many NSW recyclers donating to Animal Welfare League to support the critical work they do in the community. Every container donated counts and each 10c refund donated makes a difference," he said.
The funds raised will help AWL continue its extensive work across the state including responding to reports of animal cruelty, providing a mobile vet service, facilitating foster care and adoption of animals, and caring for animals in the AWL shelter in Western Sydney.
"Over the last six months, we have received significant funds from the Return and Earn scheme. These funds help us continue our vital work across NSW whilst positively impacting our environment.
"Last year, AWL vets, animal attendants and specialists treated, rehabilitated, and cared for over 3,000 animals on the way to their forever homes. Over 1,600 of these animals were rehabilitated and rehomed at our Kemps Creek Shelter in Sydney, with the remainder through our rural and remote NSW branches," said Stephen Albin, CEO of the Animal Welfare League NSW said,
Users of the scheme can continue to support Animal Welfare League NSW by donating their container refunds, using the Return and Earn app. Or they can also choose to support one of the other +185 not-for-profit organisations, charities, sport clubs or schools that are featured on the app.
Return and Earn has become a stalwart of fundraising activities in NSW, since the beginning of the scheme, thousands of community groups, schools and charities have raised funds.
More than $35 million dollars has been raised for community groups and charities via donations and fees from hosting return points since the scheme launched in December 2017.
For more information about donating visit returnandearn.org.au/donate/.
To download the Return and Earn app, search for 'Return and Earn' in the App Store.