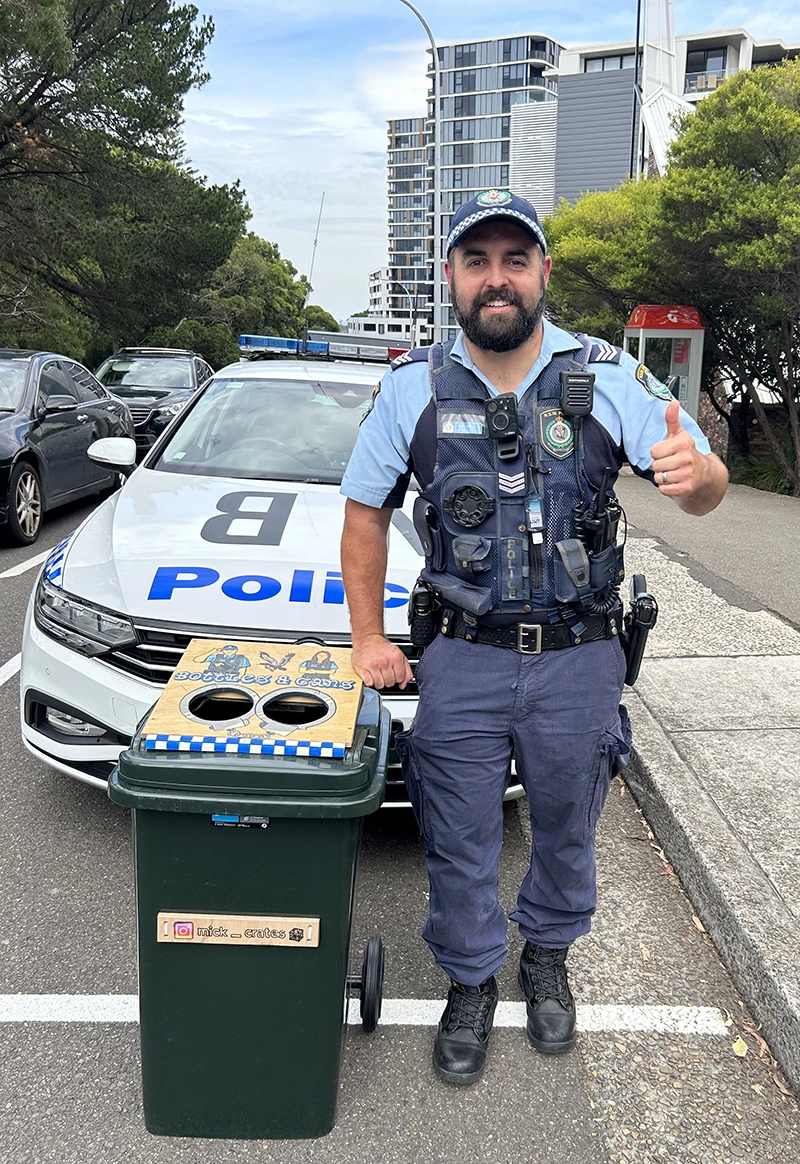 ---
Mick's-Crates a hit for recyclers on the Northern Beaches
NSW Police Officer Mick De Ceglie has been putting his artistic skills to use for the last few years, making 'Mick's-Crates' milk crate chairs for cafes, family and friends decorated with his own designs, and funded by container refunds from Return and Earn.
The milk crates are topped with a sheet of marine plywood, with one of Mick's original, brightly coloured illustrations. They proved to be such a hit in local cafes that Mick took his talents to his Northern Beaches workplace, creating a recycling bin topped with a police-themed design.
"I've been collecting bottles and cans since October 2021, and then I noticed in our office at work lots of bottles and cans keep getting thrown in the bin, so I thought I'd take them home to recycle to get the kids some pocket money," said Mick.
He redeems the containers at his local Return and Earn machine with his eldest son, who is seven years old.
"My youngest two kids aren't tall enough yet to help return the containers, but it's a way for them to learn a bit about recycling and the value of money," said Mick.
The money raised goes towards supplies for his milk crate seats, like the Posca pens, and some of it becomes pocket money for his three kids.
"It's a lesson in the meaning of money and how to contribute towards the things they want," said Mick. They're currently saving for a PlayStation 5.
Mick has lots of support from colleagues and manages to collect about 200 drink containers each week from the station, which equates to $20 per week.
"Lots of them are energy drink cans from the night shift," he said.
Mick has also been asked to make more container recycling bins for the station, including one for the office meal room and outstations to help save more containers from landfill.
Return and Earn is a partnership between the NSW Government, scheme coordinator Exchange for Change and network operator TOMRA Cleanaway.