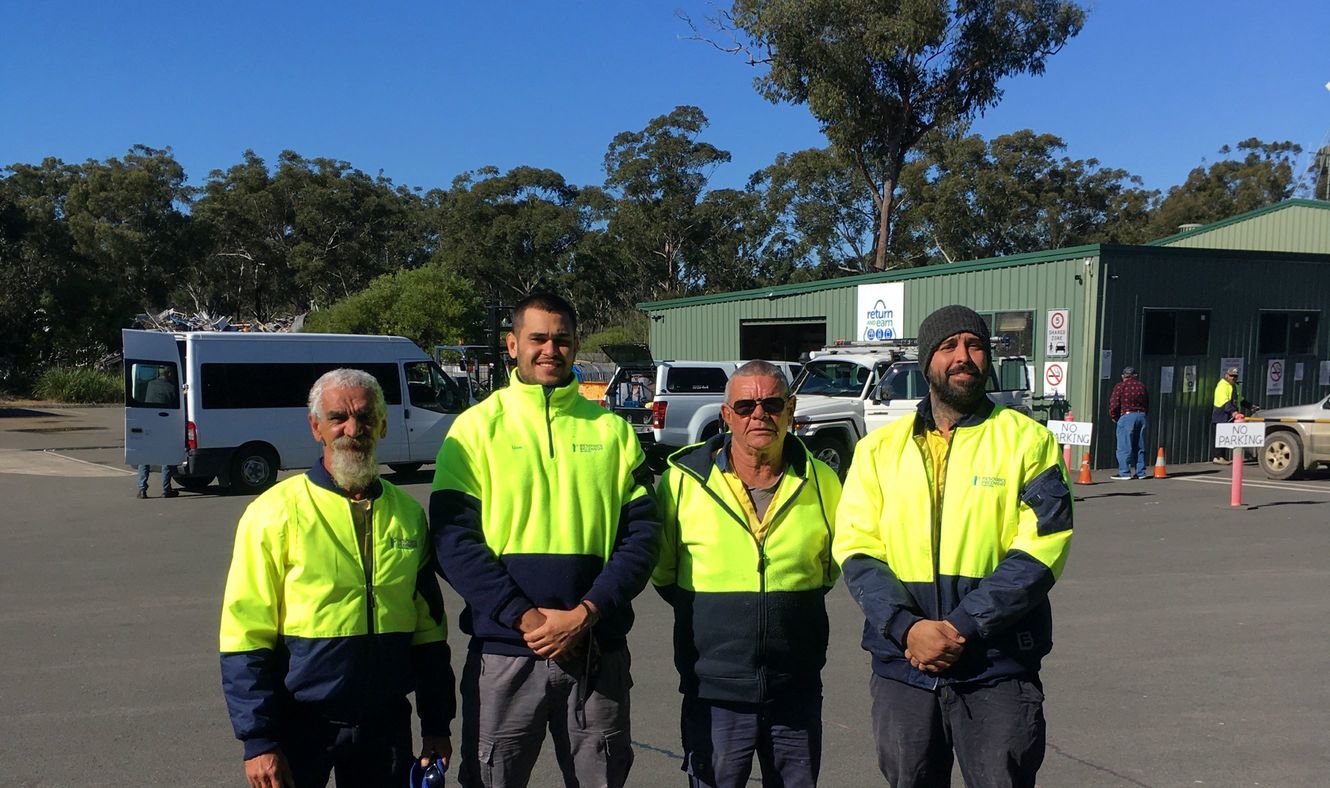 ---
Meet the Team at RRA on the NSW mid-north coast
Resource Recovery Australia(RRA) is a national, not-for-profit social enterprise, founded in Tuncurry, that has been running for over 30 years. Their innovative #Waste2Wages business model sees them keep waste out of landfill to create jobs for people experiencing barriers to employment.
At the Tuncurry Waste Management Centre, RRA runs an Automated Depot, which is an official return point for Return and Earn. Automated Depots are recycling businesses where you can drop off bulk volumes of drink containers for counting in an automated machine for a refund of 10 cents per container. It's a great option for avid container collectors and community groups seeking to raise funds through the scheme. The Tuncurry centre is also an important community asset for locals to engage in recycling and care for the environment, offering a reuse shop, a community recycling centre, community gardens, a green bikes program, a Men's shed and much more in partnership with Mid-Coast Council and JR Richards & Sons.
"It's all working towards the same goal – to reduce, reuse, recycle – and having all these great programs in the same facility really creates an engaging community hub," says Matt Curtis, the General Manager of RRA.
RRA has a focus on empowering people experiencing barriers to employment including creating meaningful employment opportunities and providing ongoing training and development.
"The RRA team are hard-working, committed and come from all walks of life, each has a story to tell," says Matt.
"Funds raised through the automated depot create more employment opportunities for people experiencing a range of barriers to employment."
Russell Ping is RRA's MidCoast Reviva Manager and a respected member of the Aboriginal community. He explains, "Indigenous employees are a big part of RRA's identity, especially here on the Mid North Coast,"
"There's a lot of Aboriginal guys working here and it's great to see them with stable jobs and seeing their self-worth grow," he continued. "They're also really positive role models for their friends, family and wider community."
For 3 years, Liam Simon searched for a job in his hometown of Forster, Worimi Country. Now, as a depot hand for Resource Recovery Australia at the Tuncurry Automated Depot, Liam is doing his part to clean up and heal country! "It's a big eye opener seeing thousands and thousands of bottles and cans getting recycled everyday knowing that it's not out on the streets or the beach or on the land. Its cleaning up country."
Since starting with RRA Liam has built real work skills including customer service, community engagement, his forklift ticket, WHS and leadership skills.
"Seeing people like Liam thrive makes us all very proud. The success of the Automated Depot means more meaningful employment and training opportunities for people who need a chance," Matt said.
"Returns with the automated depot, average around 20,000 containers per day, and the biggest day we've seen so far was 54,000 containers returned," says Matt.
"The community is really behind it, we've had strong community support on the MidCoast since the start of the program," he added.
The 20,000 containers returned daily equates to $2,000 each day going back into the community.
CEO of Exchange for Change Danielle Smalley stated "Resource Recovery Australia is another valuable way the community is benefitting from the Return and Earn scheme. Our scheme aims to support social enterprises such as Resource Recovery Australia, working together to shift public behaviour to reduce waste and recycle. This is another great example of how the containers redeemed through Return and Earn generate environmental, social, and economic benefits – ultimately creating a more sustainable future."