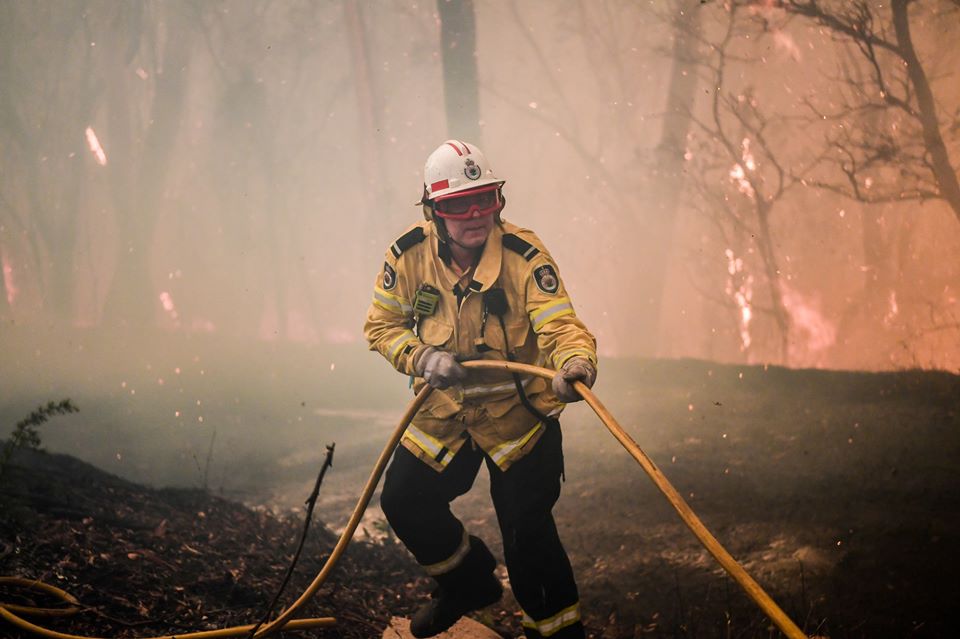 ---
Kellyville Rural Fire Service finds a new way to fundraise with container returns
A volunteer fire fighter for more than three decades, David Mynard has seen a lot of changes over time to NSW Rural Fire Service (RFS) fundraising initiatives.
Based with the Kellyville RFS, he says one of the main ways they used to raise money was through helping farmers deal with green waste, such as fallen trees and branches.
"We made sure it was done safely, we got some training out of it, and the landowners would often donate money – they didn't have to, but usually they did," David says. "Now Kellyville is quite developed and there's no farmland anymore, so we have had to find other ways to raise funds."
They have been exploring new fundraising opportunities and one of the best has been Return and Earn.
He says the process for Kellyville RFS to be featured on local Return and Earn reverse vending machines (RVMs) was very smooth. "It wasn't a whole lot of red tape, or the need to jump through hoops, like some other grants," he says.
When fundraising is done as a community event it takes people and resources to run it, which temporarily diverts energy away from their primary focus of combatting fires, he says. "With Return and Earn, our volunteers don't have to commit time to do the fundraising."
David says he wasn't sure what to expect when they first became a featured charity on six local RVMs.
Donations came in fast though, partly thanks to David's job at the Woolworths head office. The office employs thousands of staff, and has container bins throughout the building, which are returned at the RVM in the carpark – with the refunds donated to one of the featured charities.
"I was able to ask them to make sure they donate to Kellyville RFS," says David. His colleagues were pleased to do so, David explains, partly because if they ever have a local fire they know Kellyville RFS will turn up to help, along with Fire & Rescue NSW.
Beyond that, David notes there has been a lot of community support, with members of the public keen to donate their refunds to the RFS. David puts some of this interest down to the 2019-20 fires when people became very aware of how much they relied on the RFS in emergencies.
More than $1,200 has been raised so far with the funds going towards portable radios which, David says, give the RFS a secure network to communicate with other emergency services. Unlike some other radios, these ones can operate inside buildings. "When we send people into fires within buildings we need them to be able to communicate with the rest of the brigade outside the building," he explains.
"The fact that Return and Earn allows local charities to fundraise in their local communities is a huge bonus," David adds. "Local charities on local RVMs means the funds from the local community stay in the local community."
You can choose to support Kellyville RFS when you return containers at RVMs in Rouse Hill, Bella Vista, Castle Hill, Kellyville and North Kellyville. Or, to support the RFS via any other RVM across NSW, you can do so by downloading the free myTOMRA App and selecting" Kellyville RFB" under "Charity".
Interested in fundraising through Return and Earn? Find out more on our Fundraising page.
Return and Earn is a partnership between the NSW Government, scheme coordinator Exchange for Change and network operator TOMRA Cleanaway.