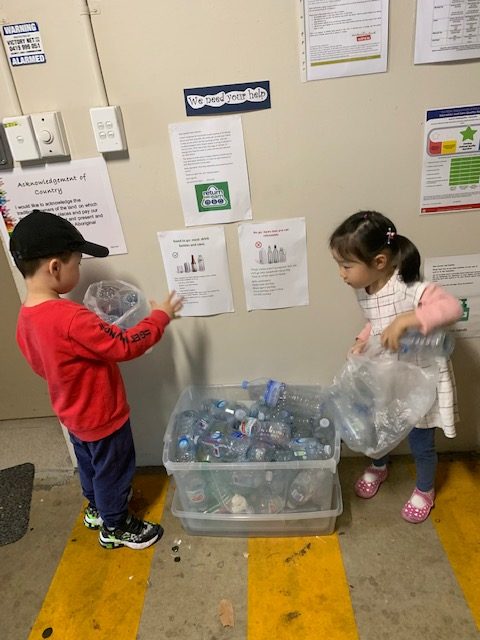 ---
Hurstville kindy kids become recycling advocates.
One day on her way home from work, Xiao Jing He, the Centre Director of Jenny's Kindergarten, Hurstville, saw an advertisement for Return and Earn on a truck.
She says that evening she googled 'Return and Earn' and thought, "That's a good idea!"
"At our centre we have activities for the children that promote a natural, sustainable environment," says Xiao Jing. "I thought this was a way we could really start taking action."
Xiao Jing met with staff members to discuss the idea. They were all keen to introduce Return and Earn at the kindergarten, so they asked the children's families to bring in their empty bottles and cans. After they returned the containers, Xiao Jing says staff asked the children how they should spend the refunds. Staff explained to them they could use it to help the fire trucks and the community.
The kindergarten donated the container refunds to two different community services – the NSW bushfire appeal and the local Aboriginal Community Centre.
Xiao Jing says Return and Earn has also become a way for the children to learn about recycling. "We show them pictures about how to recycle and also the 10c symbol on certain containers and explain that those containers can be returned in exchange for money," she says. "Then we ask the children to check at home for bottles and cans with those symbols and bring the eligible containers to kindergarten."
Xiao Jing adds that it's clear the pre-school aged children are taking in the information. She says, "One of the parents told us that every time they finish a bottle of water at home, their daughter Nia takes the empty bottle and puts in a bag saying, 'we have to take it to kindergarten for charity'."
"Using Return and Earn and donating to charities has become an important way for the centre to be involved in the local community," says Xiao Jing.
Return and Earn is a partnership between the NSW Government, scheme coordinator Exchange for Change and network operator TOMRA Cleanaway.