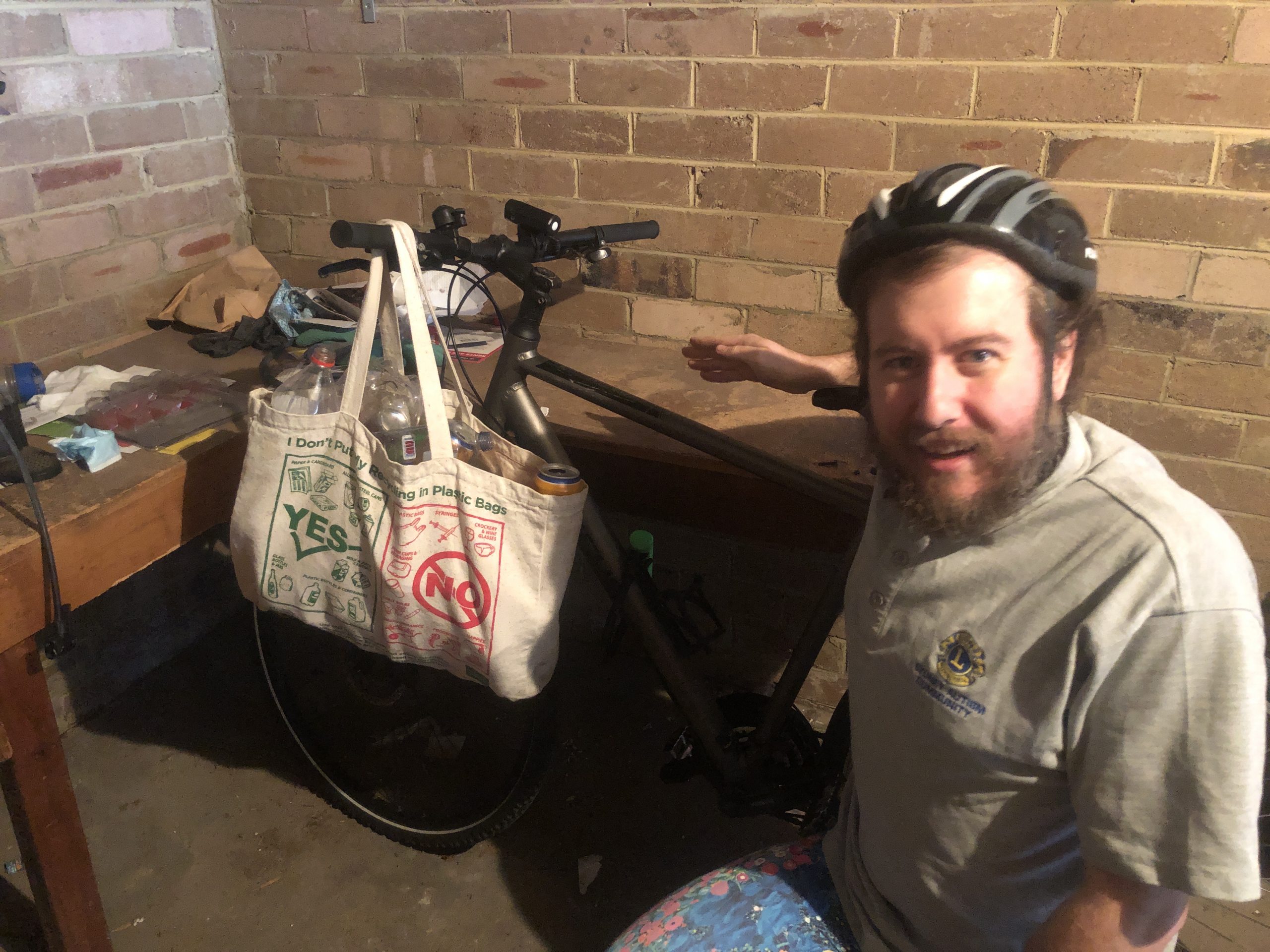 ---
Cycling the way to Return and Earn
Tom Bozic is on a mission to visit nearly two dozen different Return and Earn machines across Sydney by bicycle.
Tom is president of the Sydney Autism Community Lions Club (SACLC), an organisation that is currently featured as a charity partner on seven machines across Sydney. Earlier in the year, they were listed on 22 machines and on a bit of a whim, Tom decided to visit them all. 
"Personally, I have been making the effort to visit all the machines that list our club as a donation partner by bicycle and donating a container in each and every one of them," he said.
Tom looks for containers along the cycling route to donate to the next machine.
SACLC supports people who are on the autism spectrum or otherwise neurodivergent. Funds raised through Return and Earn support initiatives such as social activities for autistic adults and children, sensory playgrounds, quiet rooms, therapeutic trampolines, augmentative and alternative communication (AAC) devices and more.
Tom was diagnosed as autistic when he was 12, but said that for years he didn't take it that seriously since who would want to be associated with something 'negative'.
Over time his attitude has flipped. "I embraced an autistic identity in recent years when I met other people like me and realised autism is a positive thing, and I'm a lot happier and at peace with myself. Now I do what I can to help others just like me," said Tom.
In just three months he raised more than $3,500 from container donations and to date SACLS has raised 8,199.00 from Return and Earn machines and app.
One of Tom's bicycle adventures took him on a tour of the Return and Earn machines in the Northern Beaches.
"I arrived at my first machine, located near the Woolworths in Balgowlah, and noticed that the next machine was 300 metres away next to the Coles in Manly Vale. Easily the closest two return point on the Return and Earn network!" Tom said. "Since I wanted to test out both machines, I decided to split the donation. I donated plastic and metal containers at the Woolies, then rode the short distance to Coles and deposited our glass bottles there.
"Once that was done, I tracked on towards the third machine at Westfield Warringah Mall, and made a deposit from all the containers I collected along the way," he said.
Finally, he headed to Dee Why for the fourth and final machine of the day before cycling back to SACLC's Eastern Suburbs headquarters.
Tom has also toured Return and Earn return points in Strathfield, Rhodes, and Lane Cove. In the process, Tom and his team have been developing ideas for more fundraising activities such as visiting as many Return and Earn machines as possible in a single day – by bicycle, of course. Stay tuned!
Return and Earn is a partnership between the NSW Government, scheme coordinator Exchange for Change and network operator TOMRA Cleanaway.