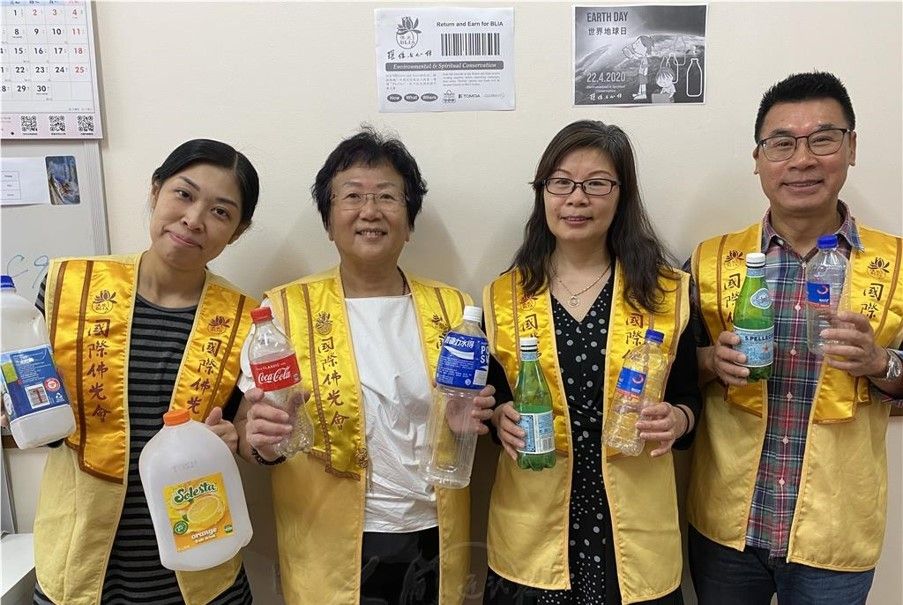 ---
Buddhist Association recycles to protect marine life
The Sydney Chapter of Buddha's Light International Association (BLIA) was inspired to use Return and Earn by the organisation's strong commitment to protecting the environment.
"This initiative aligns perfectly with our advocacy to support communities and drive positive change," said Daniel Wu, President of BLIA Sydney.
"Humanistic Buddhism emphasises the equality of all beings. Thus, environmental preservation includes the care and protection of the natural environment and respect for all lives," he said.
BLIA members collect bottles and cans to recycle at local Return and Earn machines or take them to a drop off point at the Parramatta Temple. Together they return around 500 containers each month. The money raised though the 10c refund goes back into the association to support educational, cultural and community activities and events.
"The BLIA has a strong focus on community education. Each year, we adopt one United Nations Sustainable Development Goal as the theme for our educational events," explained Daniel.
Earlier this year, BLIA Sydney co-organised the Buddah's Birthday Multicultural Festival with Nan Tien Temple, focusing on environmental and spiritual preservation at Darling Harbour. They chose SDG 14: Life Below Water as the theme, which focuses on raising awareness of the impact of overconsumption on marine wildlife.
Including Return and Earn at this event helped raise awareness of how recycling through the scheme helps reduce plastic litter ending up into our oceans.
"By integrating these educational events into our initiatives, we create a greater understanding and engagement in the community regarding environmental issues and the importance of sustainable practices.
"We aim to make a significant impact on our environment and create a better environment for generations to come," said Daniel.
Return and Earn is a partnership between the NSW Government, scheme coordinator Exchange for Change and network operator TOMRA Cleanaway.