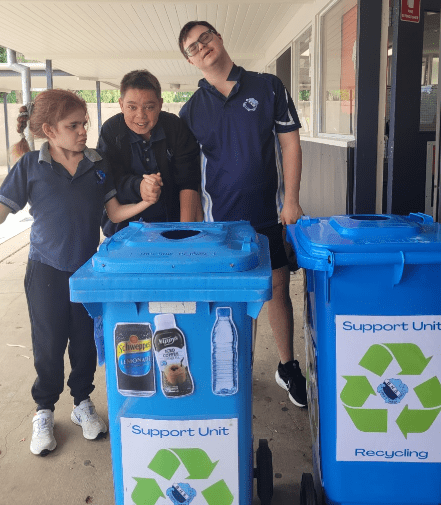 ---
Special Education Unit helps make Bourke High School more sustainable
At Bourke High School, students in Support Class 2 are working to make their school more sustainable with a bit of help from teacher Haylee-Jane Smith and Return and Earn.
"At the beginning of the year, my class collectively decided they wanted to participate in practical work experience," said Haylee-Jane.
Students started by working with the school's administration staff to recycle unwanted documents and provide shredded paper to the school farm. The enthusiastic class quickly offered more ideas, and one student suggested container recycling with Return and Earn.
"We realised the 10c container refunds meant we would be able to fundraise for the school's Special Education Unit at the same time," said Haylee-Jane.
It was the first container collection program to be implemented at the school and the students were eager to make it a success.
"They thoroughly enjoyed constructing their first recycling bin, even designing their own logo and attaching photos of all the different types of bottles available at the school canteen that can be recycled.
"All students and staff responded so positively that we created additional recycling bins and now have four in operation," said Haylee-Jane.
Once a week, students sort and count the cans and bottles. Haylee-Jane takes the collected containers to return them at the over-the-counter service offered by Bourke Laundry Services.  She has also incorporated learning about sustainability into lessons.
"Students are currently learning about recycling, reusing and reducing waste. They will also gain an understanding of how they can reduce their impact on the environment through recycling," said Haylee-Jane.
The students have become strong advocates for sustainability and lead by example in the school community.
"Students often request I take photos of them engaging in the recycling program for our school Facebook page. They love reading the comments from members of the Bourke community praising their hard work," said Haylee-Jane.
The class began collecting containers at the beginning of September 2022 and have already returned 307 cans and 546 bottles, netting 10c per container. The students decided that the first lot of funds raised should go towards a bbq to thank the rest of the school for its support.
"After this purchase, they would like to maintain and expand their sensory garden," said Haylee-Jane.
Find out more about fundraising here.
Return and Earn is a partnership between the NSW Government, scheme coordinator Exchange for Change and network operator TOMRA Cleanaway.