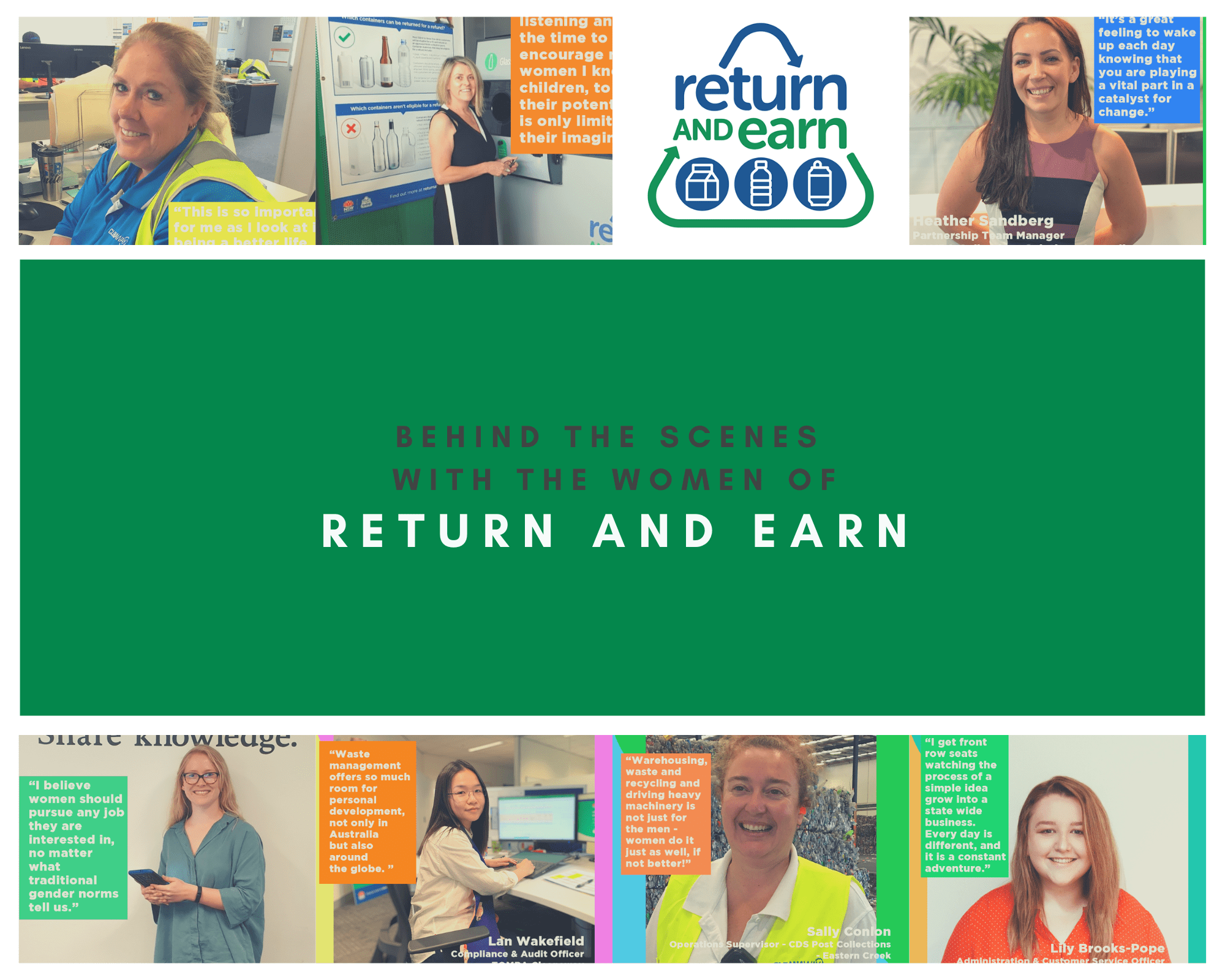 ---
Behind the scenes with the women of Return and Earn
Behind the scenes with the women changing the way we view waste
This International Women's Day, we've joined with Network Operator TOMRA Cleanaway to celebrate some of the amazing women working behind the scenes to make Return and Earn a success. From running the Return and Earn network of return points, working with our charity partners, processing material collected through the scheme for recycling, and helping customers with their inquiries, these women all are a vital part of creating a greener and more sustainable future for all of us.
We sat down with a few of these incredible women to find out how they came to be working in the sector and what they love about it. They also shared advice for other women looking to enter the industry and talked about their role-models (spoiler alert: the most popular role model is mum).
Madeleine White, Service Centre Officer
Back in 2018 when I began working for TOMRA I could see that recycling and technology was an ever-changing industry and I wanted to learn more – two years later I am still motivated by this!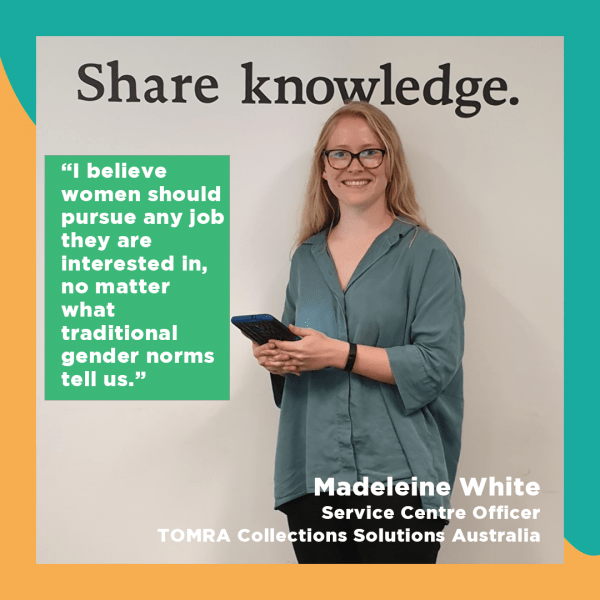 Working in the service centre, where we remotely monitor the TOMRA machines, I get to interact with a lot of different people which I love. I am proud to work for a company that is reducing the amount of plastic, cans and glass sent to landfill each year in Australia.
It is inspiring to be in an industry that is changing the way we see waste and that promotes the up-cycling and reuse of materials.
I believe women should pursue any job they are interested in, no matter what traditional gender norms tell us. I would advise other young females not to be put off when applying to work with a team that is made up of predominantly men – all industries and teams benefit from diversity.
My biggest female role model growing up has been my mum. Mum has always worked hard to pursue her passions and career goals, and took no note of people who believed she should spend more time completing traditional home-maker related activities.
Lily Brooks-Pope, Administration & Customer Service Office
After leaving the hospitality industry I found an opportunity at TOMRA Cleanaway's call centre, then an internal opportunity came up enabling me to specialise in administration and customer service. I am now coordinating account managers, logistics for regional and metro customers and handling escalations from customers.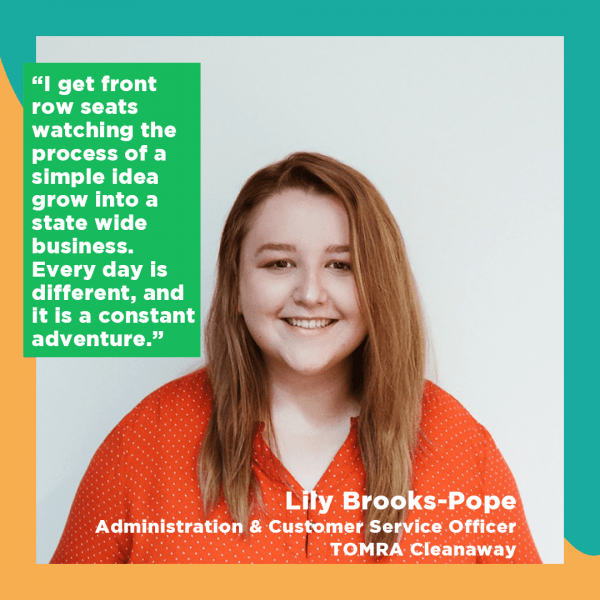 I love this role because it is always changing — always evolving — and I get front row seats watching the process of a simple idea grow into a state wide business. Every day is different, and it is a constant adventure.
I'd advise women looking to enter this industry not to be afraid to ask questions, as the important thing is that you are learning. Reach out and be a resource to others who might be struggling or need some encouragement too – sometimes the best way to understand a topic is to teach it to someone else. As long as you're pursuing work that lights you up, everything else will follow.
I'm inspired by Christina Tosi [founder and owner of Milk Bar]. She inspires me to not be afraid to have an unconventional dream and to constantly ask myself, what will make me happy?
Heather Sandberg, Partnership Team Manager
When I heard that TOMRA was planning to launch conveniently located Reverse Vending Machines (RVMs) into the Australian market, it sounded like an area where I could really make a difference. When I got the role, not only was I able to participate in launching an innovative business and technology into a new market, I was able to be part of a scheme that was making a crucial environmental contribution. It's a great feeling to wake up each day knowing that you are playing a vital part in a catalyst for change.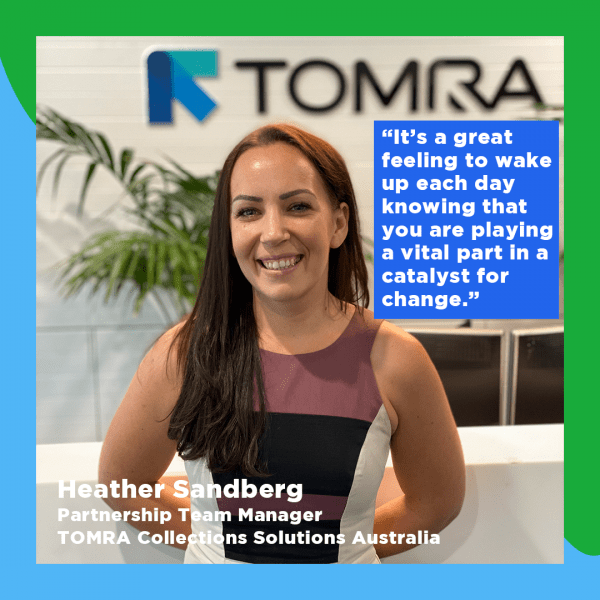 I'd advise any woman entering the industry to build knowledge around the subject matter and network within affiliated communities – attend industry events, conferences and talks, take time to learn from those that are already established. Be sure to get involved where you can, volunteer in the market area and show others what you're made of.
The woman who inspires me most in my career is Naomi Simson, founder of Red Balloon. She had an idea and believed in herself enough to know she could make it work. She started alone with a small savings account, started slowly, built a team, educated herself, opened her mind to influential others and created a successful business.
Elizabeth Berron, Leading Hand – CDS Metro Branch
I love the diversity of my role. No two days are the same. The team that I work with are great people and it makes working life a lot easier when you are surrounded by supportive individuals who encourage a happy and safe working environment.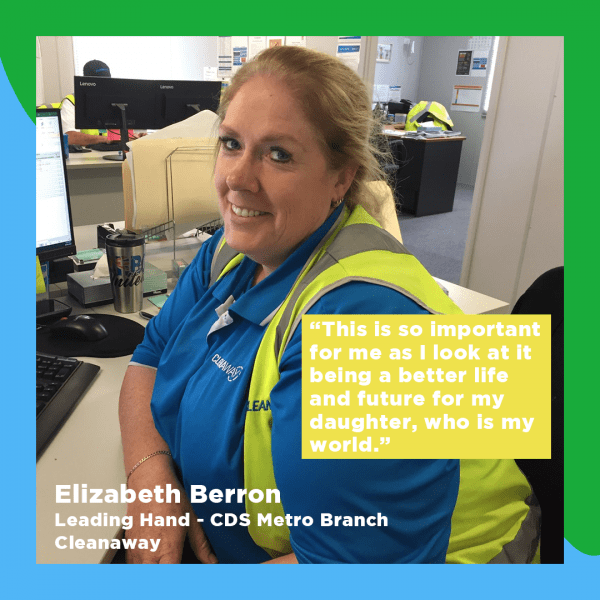 I love that I am a part of something so amazing and big, in creating a renewable and green future. I really believe in what we do and what the company stands for. Cleanaway is always finding ways to keep ahead and provide what is needed for a more sustainable future. This is so important for me as I look at it being a better life and future for my daughter, who is my world.
I started with Cleanaway as an administration officer in October 2017 – the role grew rapidly along with the scheme and in December 2018 I moved to my current position as a leading hand.
I would advise any woman looking at entering this industry to DO IT!!! What was once thought to be a male dominated environment has changed.
For me a strong, inspirational female is a woman who urges others to do something to better themselves and the people around them.
Sally Conlon, Operations Supervisor – CDS Post Collections – Eastern Creek Container Sorting Facility
I started working as a casual at Cleanaway's Eastern Creek Container Sorting Facility in February 2018 after the birth of my youngest child – I had bills to pay and family to feed! After a few months I become a team leader and after 18 months and lots of hard work, I am now the operations supervisor for the facility that processes all lightweight material from across NSW's Return and Earn network.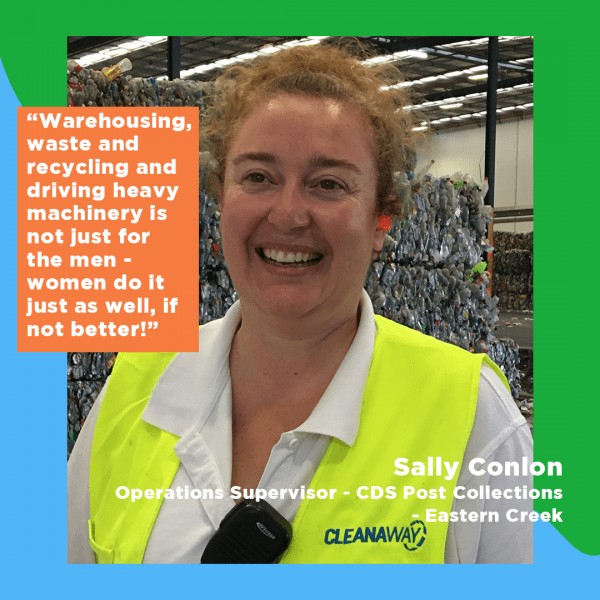 I immediately loved working at Eastern Creek. I love that finally we are lessening waste going to landfill. I also love the physical nature of the job, even when my body didn't at first! We are also working in a very fast paced environment. It's always exciting.
My advice to women looking to enter the industry is go for it. Warehousing, waste and recycling and driving heavy machinery is not just for the men – women do it just as well, if not better!
My mum most inspires me because I have seen how hard she worked to provide for my brother and sister and I, and that was not easy. I think I get my strong work ethic from her.
Lan Wakefield, Compliance & Audit Officer
Prior to working with TOMRA Cleanaway, I worked for a Coca-Cola bottler observing the lifecycle of a beverage bottle from pre-form until sale. I was interested in getting involved in the later phases of the bottle value chain, which brought me to TOMRA Cleanaway.
With TOMRA Cleanaway I absolutely appreciate the opportunities to meet with various return point partner sites and learn how different business models and processes are established to help deliver the single goal of Return and Earn. Being part of fast-paced changes and an evolving industry is also exciting.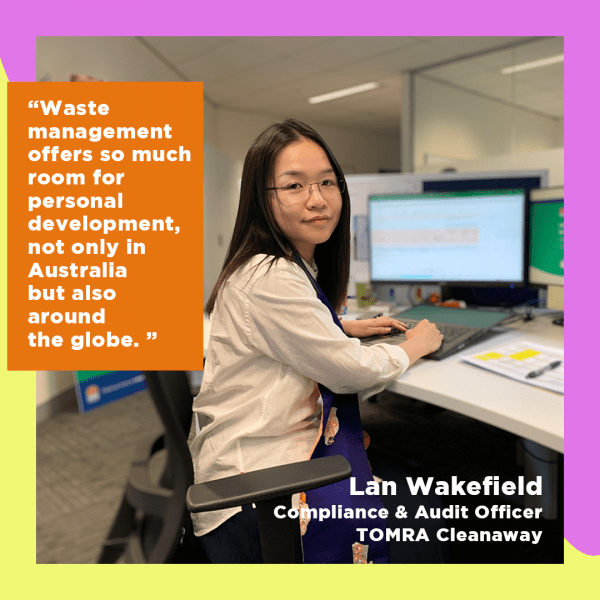 Waste management offers so much room for personal development not only in Australia but also around the globe. I'd advise other women to join and shine!
Although having separate role models for different qualities, I am inspired by my mum the most. She was a leader at work: courageous, determined, resilient, and complaint-free in life.
Joanne Fisher, Service Manager
As the Service Manager at TOMRA Collections Solutions Australia, I manage a team of technicians responsible for maintaining the Reverse Vending Machines (RVM's) and bulk sorting machines in New South Wales and Queensland. These machines actively divert waste from our streets, oceans, river systems and landfill, and contributes to making Australia a more sustainable country.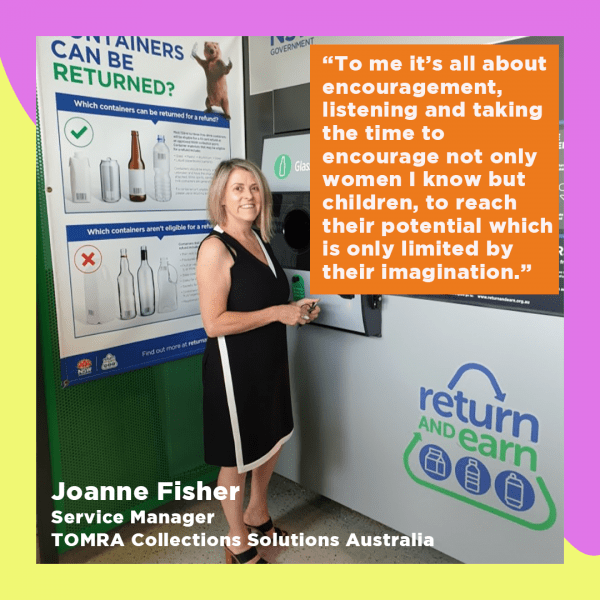 I come from an operational background, working for large transport and logistics organisations. My previous roles have been managing Field Technicians where I enjoyed the challenge of motivating and leading large teams, and in turn they motivate and challenge me to be my best.
I think it's important for everyone to follow their dreams and work in an area that interests them. Traditional gender defined roles are quickly becoming a thing of the past. It's important to encourage girls to follow their interests, and to present opportunities for them to learn about engineering, science and other typically male dominated areas.
My grandmother has been a hugely inspirational figure for me and she lived until she was 102! She was committed to contributing to her community throughout her entire life. She received numerous awards, including the OAM, and was made a life member of the Red Cross, Country Woman's Association, and Meals on Wheels.
Thank you Madeleine, Lily, Heather, Elizabeth, Sally, Lan, Joanne and all the incredible women working behind the scenes of Return and Earn. Happy International Women's Day!