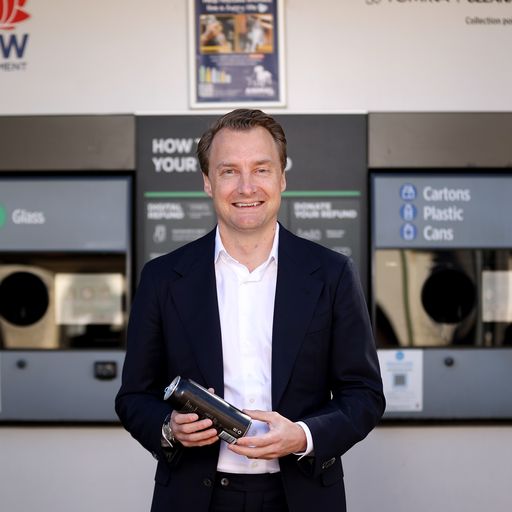 ---
8 billion reasons to celebrate five years of Return and Earn
Return and Earn is celebrating five years of its wildly popular recycling scheme, with the people of NSW returning more than eight billion containers and reducing drink container litter volume by 52 per cent since it was introduced by the NSW Government in 2017.
Minister for Environment James Griffin said this significant milestone demonstrates just how passionate the people of NSW are about turning their trash into treasure.
"While Return and Earn is only five years old, it has already achieved huge success, with more than eight billion containers returned in the last five years," Mr Griffin said.
"It has delivered a massive 755,000 tonnes of additional material for recycling already, helping remove these containers from becoming landfill or litter.
"The NSW Government's Return and Earn scheme has kick-started the circular economy in NSW, giving what were some of our most littered items a new life as new food and beverage packaging.
"The incredibly popular scheme has seen more than $800 million in refunds into the pockets of people in NSW, and delivered more than $40 million in donations to charities and community groups.
"I'll be celebrating the fifth birthday by raising a can of lemonade to celebrate the amazing efforts of the dedicated Return and Earners."
More than 600 return points are available across NSW, with more return points, including new smaller 'shop-front' style return points called 'Return and Earn Express', on the way.
Return and Earn is a partnership between the NSW Government, scheme coordinator Exchange for Change and network operator TOMRA Cleanaway.
In October, the NSW Government announced a proposal to expand Return and Earn to include even more types of beverage containers, such as wine and spirits bottles.
This would result in an additional 400 million eligible bottles recycled each year, including 233 million glass bottles.
The scheme expansion would boost recycling rates, reduce landfill, and supercharge our push towards a circular economy in NSW.
Public consultation on the plans closes on 2 December 2022, for more information visit https://yoursay.epa.nsw.gov.au/driving-nsws-circular-economy