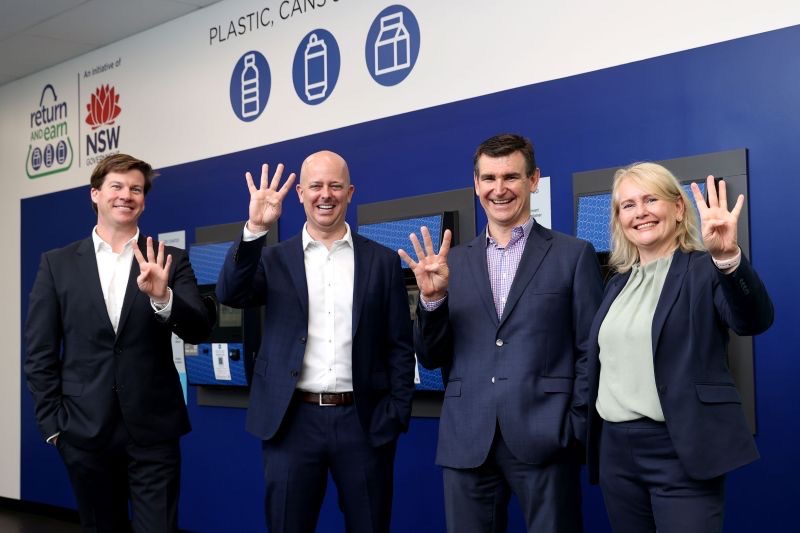 ---
Return and Earn celebrates new milestone on 4th birthday
Return and Earn has marked its 4th birthday with an extraordinary milestone while continuing to bring environmental, social and economic returns to the people of NSW. 
"In the four years since it was launched, litter reduction initiative Return and Earn has seen over 6.5 billion containers returned for recycling through its network of return points," Danielle Smalley, CEO of scheme coordinator Exchange for Change said.  
"This equates to 595,500 tonnes of materials recycled and more than $650 million in refunds going back into the community."  
Lined up end-to-end, that is enough containers to reach the moon and back! 
"And with three out of four adults in NSW having participated, these results highlight how collectively a small change in people's routines can have a positive impact," Ms Smalley said. 
Return and Earn is a partnership between the NSW Government, scheme coordinator Exchange for Change and network operator TOMRA Cleanaway.  
CEO of TOMRA Cleanaway, which manages the network of 620 plus return points, James Dorney said alongside the environmental benefits of reducing litter and increasing recycling, the scheme provides ongoing social and economic benefits to local communities.  
"Over the past 18 months, as more traditional face-to-face fundraising methods have become limited, we've really seen how important Return and Earn has become to raise money for community groups.  
"An incredible $28.4 million has been raised for community groups and not-for-profits via donations and fees for leasing return points. This figure doesn't include the many informal container collection drives we see happening all over the state," Mr Dorney said. 
Return and Earn is also being used in NSW schools to encourage students to recycle and to fundraise for school projects or charities. A recent survey by the Australian Association of Environmental Educators (AAEE NSW) found 52% of NSW schools surveyed are actively participating in Return and Earn. 
"We're seeing schools use Return and Earn to fundraise for solar panels, veggie gardens, and to support worthwhile community causes," Ms Smalley said. 
"These initiatives along with the great environmental outcomes of the scheme are being used to show young people that together we can have a positive impact." 
Return and Earn curriculum-linked school resources have been developed in partnership with AAEE NSW and provide practical ways for teachers to engage students on sustainability and recycling and support their school's participation in the scheme. 
The Return and Earn Impact Calculator launched recently highlights the impact individuals can make, calculating the energy, water, carbon and landfill savings from their container returns.   
More information on Return and Earn is available at  www.returnandearn.org.au. 
MEDIA: Shirani Glover 0401 915 234 
MEDIA NOTE 
Return and Earn Fun Facts 
More than 

6.5 billion

 drink containers have been returned for recycling through the return point network since 1 December 2017. Lined up end-to-end, that's equal to 26 trips around the coast of Australia.  

 
NSW recyclers return on average 

more than 40 million containers per week

.

 
The rolling 12-month redemption rate is 67% – that means 

2 out of every 3

 containers supplied into NSW are being redeemed through the scheme. 

 
Return and Earn has contributed to an overall 

52% reduction

 in the volume of drink container litter in NSW since commencement (KAB National Litter Index)

 
More than 

595,500 tonnes

 of materials have been delivered for recycling or reuse through the scheme (as at June 2021).

 
77%

 of NSW adults have participated. 

 
88%

 of NSW adults support the scheme, with 

3 in 4 NSW adults

 (18+) believing Return and Earn is a scheme they can trust and 

67%

 believing the scheme will increase the amount of recycling they do.

 
More than 

$28.4 million

 has been returned to charities and not-for-profits through the scheme via donations and fees from hosting return points. 

 
There are currently 

627 return points

 available across NSW including reverse-vending machines, automated depots for bulk collections and over-the-counter services.

 
96.5 per cent of glass collected in 2020–21 was reprocessed domestically in NSW and South Australia to produce new glass bottles and glass packaging products.

 
25 per cent of plastic material collected was sold domestically for bottle-to-bottle manufacturing, and 75 per cent was exported as a highly valued commodity due to its clean stream.