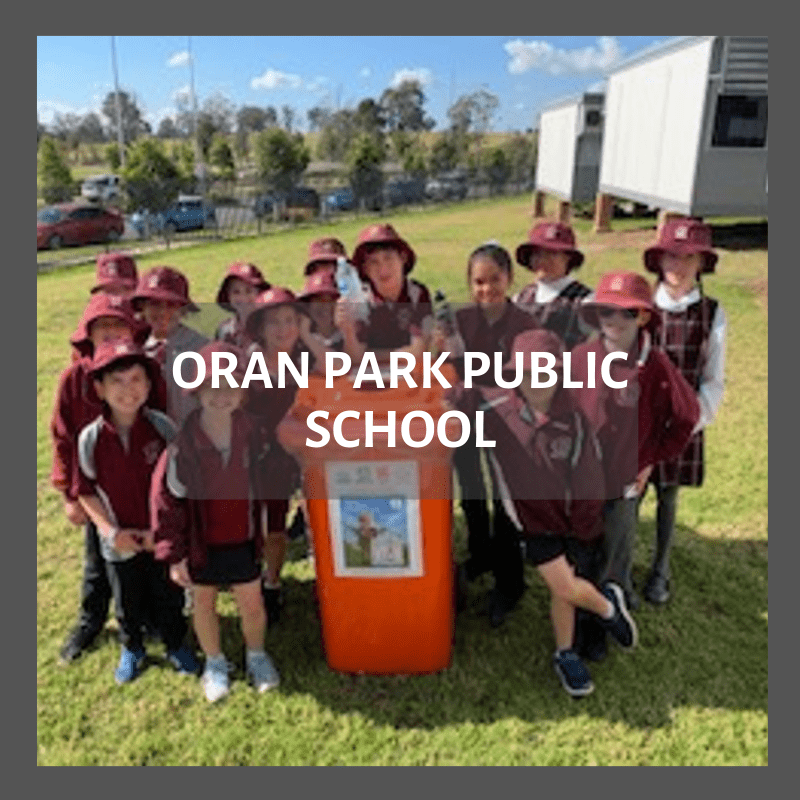 Waster Warriors
Mosman Public School
Through fundraising efforts, Mosman Public School has recently purchased speciality recycling bins to collect bottles and cans that can be taken to their local Return and Earn at Taronga Zoo. The schools Sustainability Club, involving a group of Year 5 and 6 students and a Sustainability Committee made up of parents and teachers run the initiative. This project will be ongoing and is embedded in the school's sustainability goals, including supporting an environmental charity with monies raised, such as Take 3 by the Sea.
Recycle Michael
Bringelly Public School
The Bringelly Public School project was the introduction of recycling cans and bottles in a unique way to encourage students, teachers and eventually the wider community to return their cans and bottles to the school via "Recycle Michael!". "Recycle Michael!" was a bin created in the image of a robot with a slot for putting in your cans. The children loved the idea of feeding Recycle Michael with cans and this increased the daily recycling by up to 90%.
The Recycling Continues
Jasper Road Public School
A whole of school program that has been funded by Woolworths and Junior Landcare Grants, Jasper Road Public School has managed to set up a successful system for Return and Earn within the school, encouraging the children and parents to make best use of the service. Student Arbors led the program by educating other students and by assisting with the day to day operation of the system. Apart from the fundraising which assists with environmental education, litter awareness is now a whole school issue with all students being educated as to how and why to recycle rather than litter or waste resources.
Eco Crusaders Waste Management
Caddies Creek Public School
Caddies Creek Public School have over the past two years introduced a range of waste streams into their school waste program. The Return and Earn program enables money earned being used to cover costs of further sustainability initiatives and a portion is donated to a charity in Cambodia that rehabilitates children addicted to drugs. This project has introduced an income stream for school programs and has been very successful in creating awareness around the need to manage all waste sustainably.
Eco Warriors
John Brotchie Nursery School
The John Brotchie Nursery School, Bottles for Brotchie has raised over $430 in 2019, equating to 4,300 bottles and containers that have been kept out of landfill. By having a collection centre on site community members can drop off bottles on the weekend as well as when they bring their children to school. Local cafe and businesses have also got on board the Bottles for Brotchie, by using the preschool's bins to place their used containers.
Eco Warriors
Oran Park Public School
Oran Park Public School commenced the Return and Earn Initiative in 2019. As a school of nearly 1500 students, they identified an opportunity to not only raise funds for the school but an opportunity for teachers to include recycling and sustainability in the students' everyday lives. Officially starting to collect in Term Two they exceeded their initial target of 500 bottles by collecting over three times that amount! Their first collection totalled $183.00 (which equates to 1800 bottles/cans/poppers). The flow-on has resulted in a significant growth in participation numbers at the school's lunchtime 'Eco/Enviro Club'.
Return and Earners
Sutherland North Public School
Sutherland North Public School started the Return and Earn initiative by asking students to bring in empty containers. An incentive was offered to encourage participation, with the class with the most containers after five weeks rewarded with 15 minutes extra play after lunch. This project helped raise awareness in the school community about the importance of reducing litter and that students can contribute to this change.
Keep KRB green by making Vaucluse clean
Kincoppal Rose Bay Junior School
As part on an SRC initiative, the students of Kincoppal Rose Bay (KRB) have been working hard to help save marine life and the planet by recycling plastic bottles. By gaining 10c for every bottle collected, they donate these funds to some of the poorest children in Chang Rai, Thailand. The children have been scouring the beaches around the harbour foreshore, combing over local parks and streets and encouraging their wider family and friends to get involved. They also send the bottle caps to Envision who turn them into recycled plastic hands (prosthesis) and donates them to under serviced countries.
Protecting Nature for our Future
Oatlands Public School
Oatlands Public School's "Return and Earn" program has been running since August 2018, in partnership with Oatlands "Kids Parliament: which includes students from their Student Representative Council and Environment Club. Since May 2019 students and families had collected 6653 bottles. Running awareness campaigns for families, including collection bags throughout the school playground, collecting bottles at all events, families and other members of the community can return their recyclable containers to the school every fortnight for collection and return them to the "Return and Earn" program.
Charopy
Eastwood Public School 
Eastwood Public School P&C recently implemented the Charopy recycling program to their school in Term 2, 2019. Charopy is a smart phone payment application (App.), where each child is able to bring up to 5 recyclable containers to school in the morning and recess to earn 10 cents per eligible bottle.  During this process, each child learns what type of bottles can be recycled including how to read and locate the 10 cents eligibility. The school has run a class challenge where the class that recycles the most is awarded a class lunch. With an increase in the collection of containers they are also seeing less containers on the school grounds as a result of this program. 
Read more about all the Sustainable Cities Awards nominees.